Xinjiang, my hometown, is a beautiful place that some people yearn for. I love Xinjiang, for it is not only a place where I was born and grew up, a position with beautiful scenery and expensive products but also an area connected with flesh and blood in various parts of the motherland. At that time, many Han youths who were stationed in this northwest frontier, have taken root in this region, multiplying for generations, and together with the brothers here, they have created stability and prosperity in the northwest.
Friends, have you been to my hometown? Have you ever seen the scenery of Xinjiang? Do you understand the customs of Xinjiang? We have compiled the following must-see attractions in Xinjiang, a place to indulge you, and hoping to play a reference role in your trip.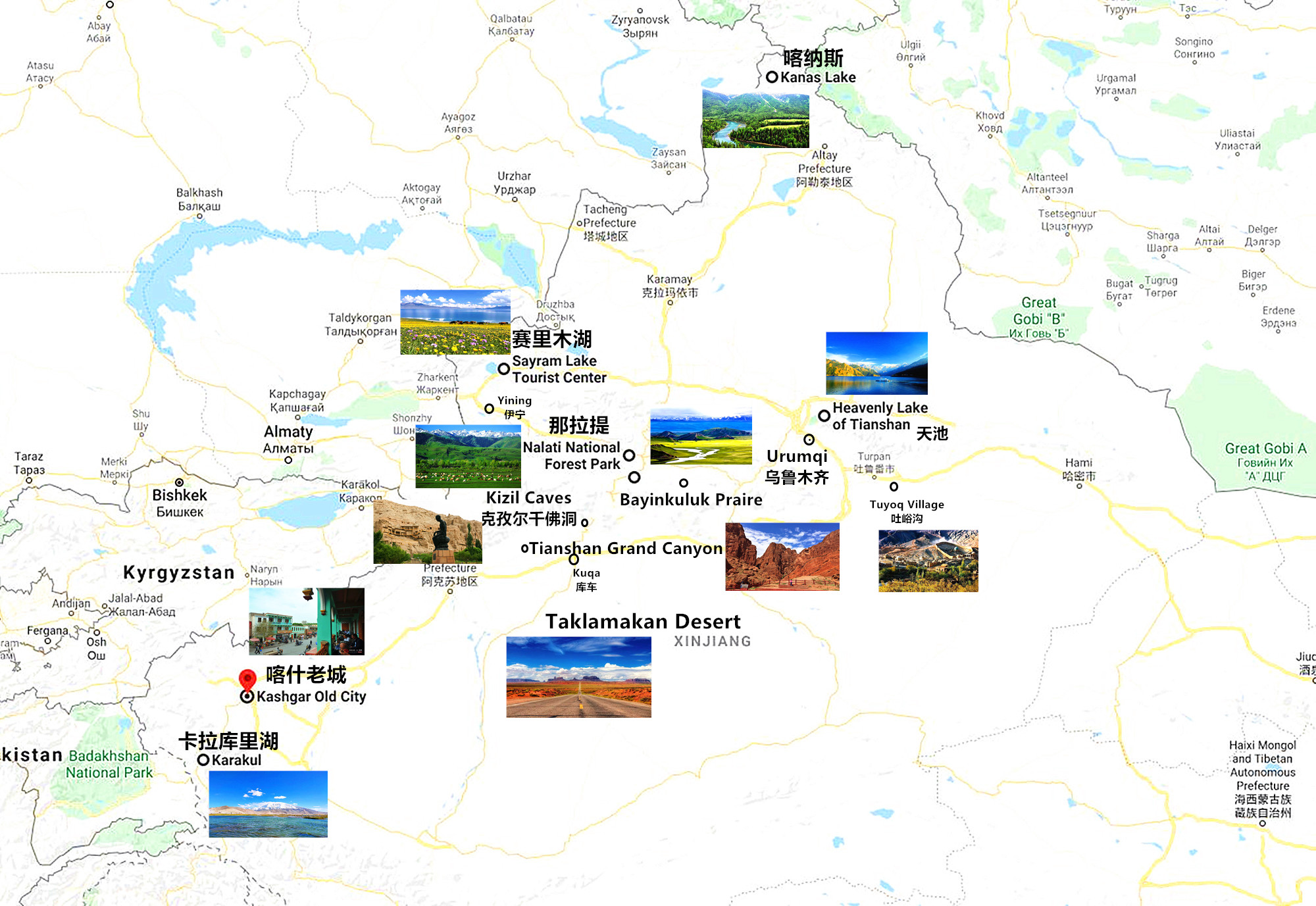 I have heard people around me talk about the beauty of the Heavenly Lake, but it is still better to see it! And I saw the photos taken by my aunt after a trip to Heavenly Lake, and know more about it. Located in the deep of Tianshan Mountain neighboring to the Holy Bogoda peak, the Heavenly Lake is formed by the melting snow water. You can enjoy the splendid natural scenery, legendary tales, and relaxing while trekking in along the lake.
Naraty Grassland
Beautiful grasslands in China are not always being found in Inner Mongolia. Do you know where to find grasslands in Xinjiang? Naraty Grassland, located in Yili Kazak Autonomous Prefecture, Xinjiang, in the northwest of China. Winding river, large flat valley, towering and steep mountain peaks, dense forests and simple shepherds make it a fantastic land.
People who have never been to Xinjiang may think this area filled with desert, but you will find it is not as barren as you feel when you come here, especially the place called "Kanas". Kanas Lake is tucked away deep in the mountains and forests of Burqin County, nearly 800 kilometers away from Urumqi, the capital of Xinjiang. Compared with Namsto Lake of Tibet, you can see the bright and tranquil surface of the lake at the gorgeous and fertile lakeside.
Bayinbuluk Prairie
As the saying goes, "You don't know how big China is until you go to Xinjiang, and you don't know how beauty Xinjiang is until you go to Yili." You will see the magnificent scenery of the vast Bayinbulak grassland, which is full of magic and memorable.
Kizil Caves
Leaving from Bayinbulak Prairie and crossing the Tianshan Mountain through the Duku Highway, arriving at the Kizil Caves in Baicheng County. Known as its long history and thick cultural heritage, Kizil Caves is probably the most well-known destination in the area. There are over 200 caves spread across a couple of kilometers of sandstone that are filled with art and statues that date back thousands of years.
Tianshan Grand Canyon
The ancient city of Kuqa is a historically significant and yet often-overlooked place to visit in China's far western region of Xinjiang. It takes a good 1.5 hours to get from Kuqa to the Grand Canyon, and you'll be amazed by the "Grand Canyons" that qualify it with the word "mysterious."
Karakul Lake, located at the foot of Mt. Muztagh, "the father of the Ice-mountains," is about 191 kilometers from Kashgar city. The famous Karakoram Highway between China and Pakistan, passes by the lake. " karakul" means "Black Lake," which is a glacial moraine lake in high mountains.
Kashgar Old Town
Kashgar is a beautiful place with beautiful scenery and abundant products, where the layout of the old town remains the same. I picked a cup of tea and sat down in a corner by the window while entering the teahouse. The long-standing tea habit here continues to develop with a glance of the old lane outside, even if the rich heritage has not yet been designed and valued, and lost its charm in the long years. An old teapot has been handed down for hundreds of years, contains the beauty of culture, and immerses the past days of the ancient city.
Taklamakan Desert
Go to Taklamakan desert is the best trip in all Xinjiang desert platform. The most original and beautiful inside desert expeditions are in this area and between the Hotan, Minfeng and other cities. We recommend to our popular tours through the Taklamakan desert highway if you want to experience the beauty of this region.
Tuyoq Village is one of my favorite destinations in the Silk Road oasis Turpan. The ancient Uyghur village still feels like an opportunity to step back in time and see how life used to be lived in Central Asia even if it's slowly being built up as a tourist stop. If you're planning a visit, you'll enjoy this ancient scenic spot.