Kanas was the first time I met in a junior high school geography textbook. Mysterious legends and unparalleled scenery made me, a native of Xinjiang, fascinated by my dreams. That is the "world wonderland" I want to dream about.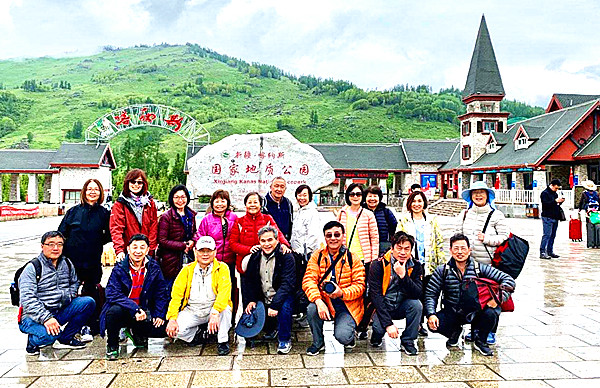 Amreica and Taiwan Group in Kanas
Kanas Nature Reserve, on the border between China and Kazakhstan, Russia, and Mongolia, is located in the vertical zone of the Altay Mountains landform and vegetation, from high to low, with an altitude of more than 3000 meters. There are 55 large and small scenic spots in Kanas beautiful spot, belonging to 33 basic types, including Kanas National Nature Reserve; Kanas National Geological Park; Baihaba National Forest Park; Jiadengyu National Forest Park; Kanas River Valley; Hemu River Valley; Naren Grassland; Hemu Grassland and Hemu Village' Baihaba Village, Kanas Village. And other famous eight natural landscape areas and three human landscape areas at home and abroad.
Features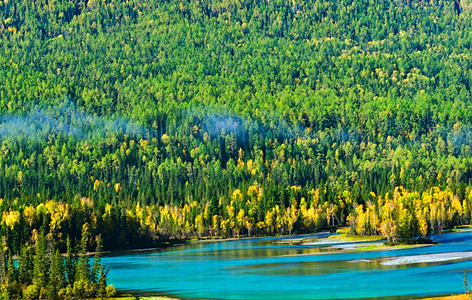 Kanas
Chinese Name: 喀纳斯自然保护区

Location: In the north of Burqin County, Altay, Xinjiang. China
Area: 10030 square kilometers
Opening Time: 09:00-19:00 (Mon-Fri); 10:00-15:00(Sat, Sun)
Best Time to Visit: May to September
How to Get There
By air: Traveler can take a direct flight to Kanas from Urumqi with a 50-minute journey.
By train: Travelers have to take a train at Urumqi to Beitun and transfer a coach to Kanas (230 kms, 4.5hrs driving).
By coach: Take a sleeping coach to Burqin, and then transfer a bus to Kanas Lake.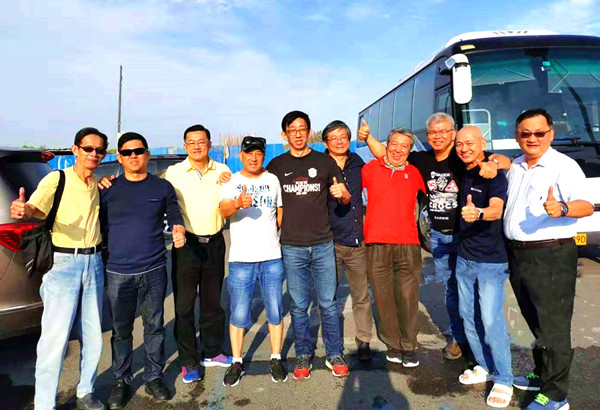 Malaysia Group in Kanas
Traffic and tickets in the scenic spot
Kanas entrance fee + shuttle bus charge (08:30-20:00): CNY 230/pp (first entering)
                                                                 CNY 270/pp (second entering)
Hemu entrance fee + shuttle bus charge (08:30-21:00): CNY 102/pp
Shuttle bus charge of fish viewing pavilion (09:00-18:30): CNY 60/pp
You must transfer the shuttle bus in the scenic area, no matter to reach visitor center
Top Things To Do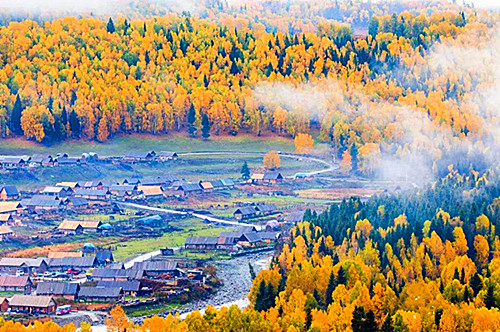 Morning foggy in Hemu Village
Enjoy a foggy morning in Hemu Village

Hemu Village, surrounded by mist in the morning, is much famous scenery in Kana, it is one of the three residences of the Tuva Mongol in China. The Tuva Mongol of Hemu Village lives in frame houses half-buried in the ground to resist the chillness of winter. Religious and traditional festivals are always jolly and busy, while the landscape tempts every visitor to come back to experience the wildness of nature.
Experience Tuva culture in Tuva Village
Tuva Village, located 2 to 3 km of Kanas Valley at the south bank of Kanas Lake, is on the must-visit way from Burgin County to Kanas Lake. With marvelous natural scenery, the village is the place where more than 100 Tuva families live in. Travelers can explore their unique and long history and rich culture in the small village.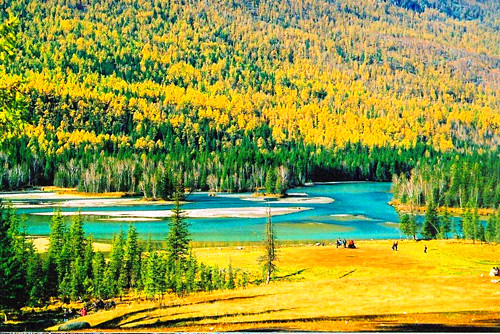 Kanas Lake
Explore the Kanas Lake
Kanas Lake, shaped like a meniscus is 1375 meters above sea level, with an average water depth of 90 meters, a maximum depth of 188.4 meters, and a storage capacity of 4 billion cubic meters, is the essence of Kanas National Geopark. It is a deep-water lake, and the lake is a mixed forest of green needles and broad leaves connected with the vast mountain grassland.
Three-Bay Scenic Spot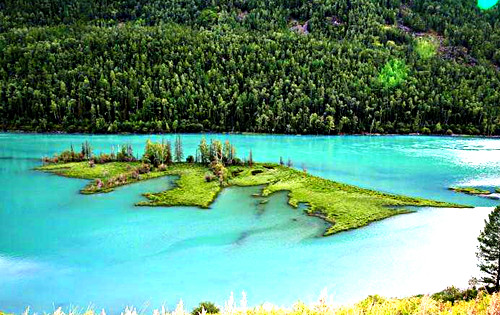 Wolong Bay
Wolong Bay

Wolong Bay, located on the way from Burqin County to Kanas, is 140 kilometers from the county and 10 kilometers from Kanas. There is a wooden bridge at the discharge of the lake. Standing on the bridge to the north is the mirror-like Wolong Bay, to the south is the roaring Kanas River. From Wolong Bay, about 1 km north along the Kanas River, you will see a blue crescent-shaped lake bay in the canyon, Moon Bay.
Viewing of Moon Bay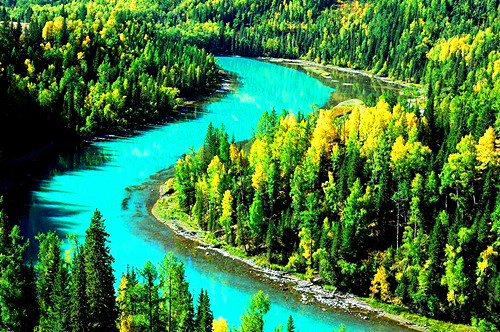 Moon Bay
Moon Bay, as the most famous scenic spots in Kanas Lake, is at 1 kilometer of the upper reaches of Wolong Bay. It is renowned as a flower sea in June and a golden world in September. Photographers love to head to Moon Bay to record the different beautiful moment, that the bay in the morning and dusk, spring and autumn show travelers different pictures. Decorated by the original forest, it becomes a colorful paradise in autumn. It is unforgettable even travelers only have a glance at it and won't forget in their life.

Fairy Bay
What people called the Fairy Bay is the river water here divides forests and grasslands into small islands. It is a swampy shoal formed by the Kanas River in the low mountains. The color of its water looks like jade and inverted reflection in the water.
Climb to Fish Viewing Pavilion to have a whole view of Kanas Lake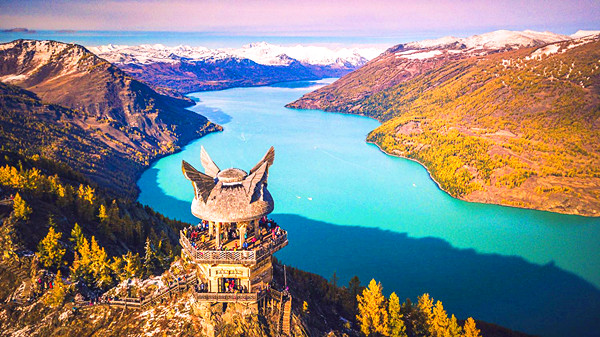 Fish Viewing Pavilion
Fish viewing pavilion, built-in 1987, is a must-visit spot in Kanas. It is the remarkable last spot on the trip to Kanas. It is not enough to appreciate ultimate beauty and cannot even feel the true meaning of life if you don't climb the Pavilion. There is a legend about Kanas Lake monster, so it is said that Pavilion is the best place to see the beast. Travelers can also see the full view of Kanas Lake and snowy Friendship Peak (4374 meters high), which is the highest peak in the Altay Mountains, and see colorful trees decorated around the lake in autumn.

Take pictures of golden Birch Forest in autumn
Walking in the birch forest and taking photos are pleasing things to do in Kanas, thousands of birch trees turn into golden at the end of September.
Other Activities:
Travle on a Cruise: CNY 120/pp   (09:00-18:00)
Cross Line from Kanas to Black Lake: CNY 260/pp
Climate and Weather of Kanas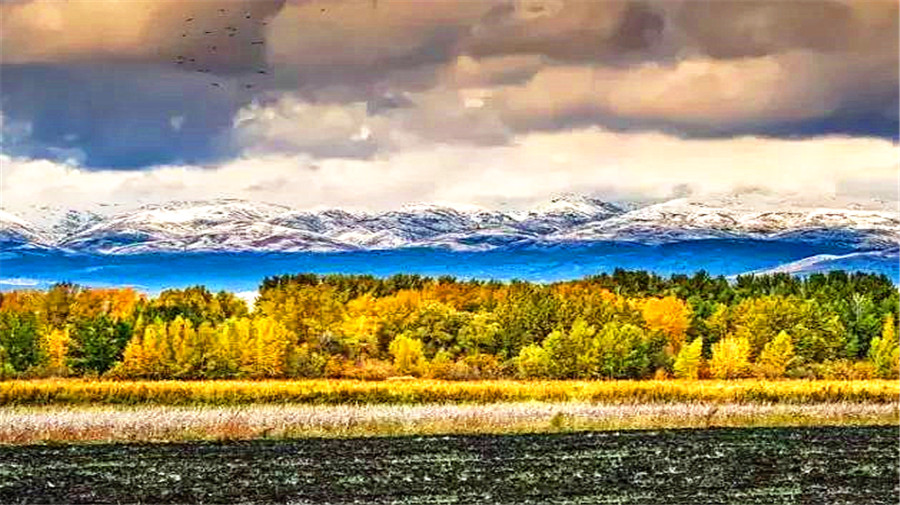 Kanas
Kanas National Geopark belongs to the cold temperate zone. It forms a unique climate feature because it is located in Eurasia's hinterland, away from the ocean, the latitude is higher, and the relative height difference is vast, and the terrain is complex.

The annual average temperature here is -0.2°C, and the minimum temperature is -37°C. The winter is as long as seven months, the monthly average temperature for six months is below 0°C. The annual precipitation is about 1000 mm, winter is long, and snowfall is abundant.
The water conditions in the park are right. The air humidity is relatively large, the relative humidity is generally 59-90%, the moisture increases with the elevation, and the moisture in the forest can usually reach more than 90%.
Annual Temperature of the Year/℃ ( High-Low )
Jan.
Feb.
Mar.

Apr.
May.
June.
-11~-19
19~-18

4~-6

16~4

19~8

25~14

July.
Aug.
Sept.
Oct.
Nov.
Dec.
28~16

28~15

21~9

13~0

-1~-9
-5~-12

Meet the Golden Autumn Feast in Kanas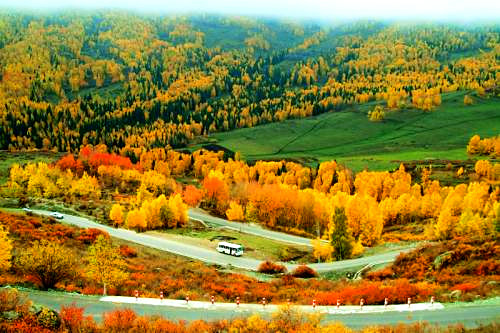 Kanas Golden Autumn

Best time for autumn view of Kanas Lake will be from late September to early October, when the trees and grasses around the lake turns to be red, yellow and brown, that would be very beautiful. Soon, the "Kanas Golden Autumn Feast" arrived as scheduled to welcome guests from all over the world. You have already seen the colors of heaven where the wooden houses with red roofs, the white yurts, the beautiful, rich and mysterious autumn fairy tales in Kanas. Rows of neatly arranged scenic shuttle buses are ready to go. They will drive you into the scenic avenue of the golden autumn festival. The ground is full of yellow leaves, which looks like a place made of pure gold from a distance.

Whether it is the Kanas, and Hemu shuttle buses, or the night RV camp on the Agonggeti Grassland, the Kanas Folk Custom Park, the various resort hotels such as Hemu Hotel (+86 906-6515555), and Burqin Tourist Hotel (+86 906-6532068), Kanas Food Court, are all just waiting for your arrival. We're ready and follow our trip to meet the Golden Autumn Feast in Kanas!
Grassland Night Star Camp Consultation (Kanas-Agonggeti Grassland)
Tel: 0906-6323777
Kanas Folk Custom Park (Kanas-Jiadengyu)
Tel: 0906-6326333
Kanas Food Court (Kanas-Transfer Center)
Tel: 0906-6326133
Lost in the Snow World of Kanas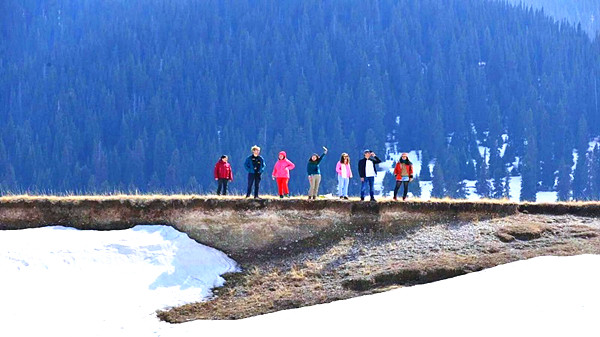 Our clients in Kanas in winter
Kanas is a world of ice and snow in winter that the crystal rime ice-coated birch forest along the Kanas valley; the grandeur of the snowfields; the snow-covered ice lake and Hemu village where one feels as if they have been reincarnated in a Chinese ink painting. All is something not to be missed, which is destined to be part and parcel of an unforgettable memory.

Fantasy travel, Kanas in winter, play a variety of ways. You can see the ancient Tuva folklore and try fur skiing, snowmobiling, snow laps, and snow surfing to leave you with the most memorable memories!
Recomend Tours to Kanas Lake Park