Xinjiang Uygur Autonomous Region, with a population of 22 million, is the farthest and biggest province where Muslims are in the majority. It is inhabited by many ethnic groups, including Uighur, Han, Kazakhs, Tibetans, Hui, Tajik, Kyrgyz, Mongol, Russian, and Xibe, etc.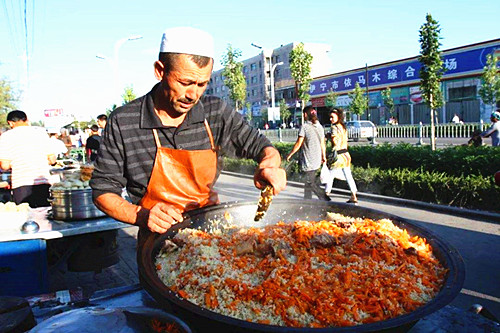 Polu Rice Pilaf
Xinjiang food is characterized by roast mutton, kebabs, roast fish, and rice to be eaten with the hand, which is quite different from that of the rest of China. Xinjiang Food has more Central Asian flavor than elsewhere in China, and many of the dishes use Islamic spices and flavoring. There is much of the food with peppers, and chili here tends to be very spicy too. The local Uighur people tend to be friendly, and eating is a real part of their lifestyle. Pull up a chair at a small Uighur restaurant, and someone will always make an effort to help you eat even if you don't speak the language.
Here the leading food is not rice but noodles. La mien, Ban mien, and Nang (a kind of crusty pancake) are hugely popular in all the cities in the region. There is another typical specialty called Grilled mutton kebabs (Kaoyangrouchuan), which is familiar to western barbecued meat. You can often see these kebabs out of the restaurants on the street, and sometimes it tastes delicious to have a flat oven-baked Nang! Follow us and explore the Fantastic Xinjiang Food and Top Xinjiang Restaurant.
Kawap (Roasted Mutton Kebab)
Xinjiang roast mutton is as famous as Beijing duck is in Beijing. It is the most common that you can find a mutton kebab's stand in pretty much every corner of Kashgar or Urumqi, the capital of Xinjiang.
Cut the lamb into pieces and put them on the stick, a pile of pre-made kawap, and an enormous electric fan that blows the billowing smoke from the charcoal grill away. The kawap are typically sprinkled with a mix of spices that includes some cumin and chili powder.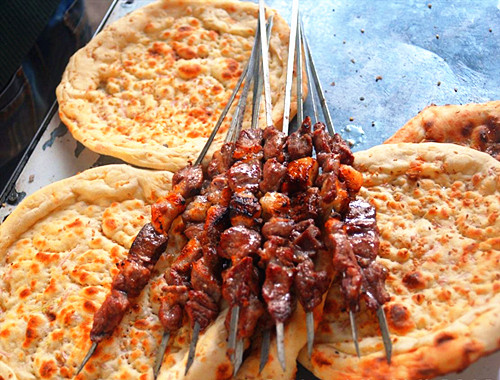 Kawap
Samosa (Baked Mutton Dumpling)
Samosa filling with delicious mutton and onion is one of the most street-side delicious foods we came across in Xinjiang. Baked in a naan-oven similar to an oven, and eat them right as they came out.
Polu Rice Pilaf (Fried Rice with Mutton)
Xinjiang Polu or Rice Pilaf is a typical dish that is often sold outside restaurants from a large wok. Polu is made from cooked mutton together with onion and yellow carrots – a type of carrot I've only come across in Xinjiang. The meat and vegetables are cooked with some spices, including cumin, and then steamed along with the rice. Sometimes you'll find raisins added, giving the dish a distinctive taste.
Dapanji (Chicken Dish)
A stewed chicken dish with potatoes and green peppers is also typical when eating in a Xinjiang-style restaurant. It is careful to pay attention to the no boneless chicken meat.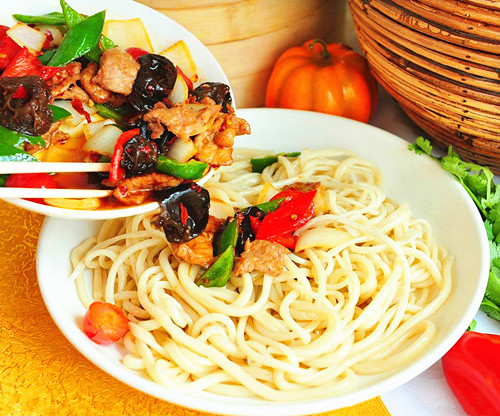 Laghman
Laghman (Noodles)
The Xinjiang version of "lamian" is called Laghman. This noodle dish is very typical in Xinjiang, and you'll find it in most local restaurants. The Laghman, traditionally hand made noodles, are first boiled and then topped with a stir-fry of different ingredients; mutton meat, onion, and peppers are especially popular
Usually, the topping is a mix of vegetables, and we ate them with combinations of tomatoes, peppers, onions, potatoes, and beans. They are not served in a soup but instead cooked and topped with the vegetable mix. 
Xinjiang Ethnic Cuisine




Kazakh Diet mainly contains meat, food made by flour, and dairy products, in which mutton is the top choice, and the horse meat is the best. Horse intestine, hard cheeses(milk dough), cloudy, and sour horse milk wine are their unique food. Moreover, Milk tea is an indispensable drink in the daily life of the Kazakh people.
Kirgiz Diet: Milk and dairy products such as horse, milk, butter, and yogurts are their daily food. Meanwhile, many Kirgiz people are a fan of drink beverage "Yarma," which made by fermented barley and wheat, and they also like boiled tea with milk and salt.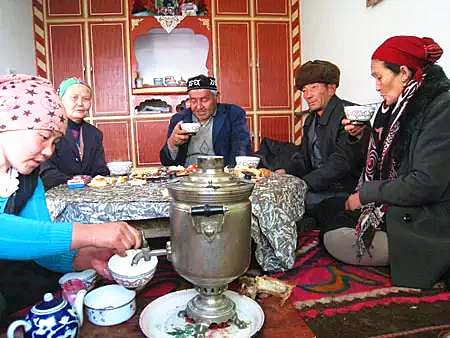 Milk Tea of Kazakh Diet
Mongolian Diet: Mongolians are nomads. Beef and mutton, dairy products, and food made by flour are their staple food. They like making milk wine with cow's and sheep's milk.
Xibo Diet: Rice and flour are staples for the Xibo. They like tea with milk, butter, cream, cheese, and other dairy products. It is a taboo to eat donkey meat and horse meat.
Chinese Russians Diet: The Chinese Russians began to move to China from Russia after the 18th century. More entered various parts of Xinjiang after the 19th century, and even after the October Russian Revolution in 1917. Their diet is different from other ethnic groups; for instance, before the festivals, it is taboo to eat meat. On the very day of the festival, except the colorful "Biqieni ( a kind of cake)." boiled color eggs must be presented -eggs are coated with red, yellow, blue-brown, green, and purple.
Top Xinjiang Restaurants



Herembg Restaurant: No.2 Yan'an Road, Urumqi China+86 991 288 5027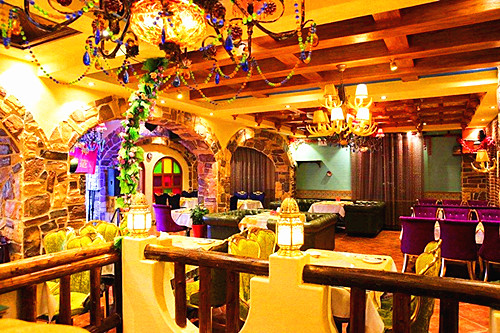 Herembeg Restaurant in Urumqi
It is definitely a good choice for the international traveler tired of eating trash in this Turkish and Xinjiang fusion restaurant where the nice environment, kind staff, great middle eastern flavors all makes you unforgettable
Miraji Restaurant: No.31 Lane 2 Shengli Road, Urumqi China+86 991 288 5522
Altun Orda: Renmin Xi Lu 320, Kashgar China
The place is beautifully decorated and provided a warm feeling. It is also a super family friendly place with young children at half the tables. The manual is extensive and you can not finish half of the two dish. In short, a very special place to enjoy with the locals.
Nuran Restaurant: No.18 Jiefang North Road, Kashgar China+86 998 280 5666
Some travelers would thoroughly recommend anyone who is staying in Kashi to eat here, with quality of food, service and decor is excellent. The staff are super friendly and helpful.