Silk Road Travel Guide
Silk Road, known as the "Friendship Canal", based upon the silk trade between the West and the East, is still prosperous now, ever extended for thousands of miles and passed 2000-odd years.
In September 2013, Chinese President Xi Jinping proposed the strategic concept to promote building the 21st Century Maritime Silk Road and advanceopening up and development under the Belt and Road Initiative. On March 28, 2015, the national development and Reform Commission, the Ministry of foreign affairs, and the Ministry of Commerce jointly issued the vision and action to promote the joint construction of the Silk Road Economic Belt and the 21st century Maritime Silk Road.
This ancient trade route traversed more than 20 cities from central and western China, and it has many natural landscapes and historical sites. It's time to pick some destinations and start our journey!

Trading goods on the Silk Road
Before the Ming Dynasty, most of the crops introduced from China originated in Western Asia and the Mediterranean coast, Africa, or India. Most of them were introduced through the "Silk Road" on land. Other luxuries were transported to the west across the Silk Road, including porcelain, fine jewelry, tea, gold, exquisitely carved jade, spices, coral, and ivory. Trade was not just one-way traffic – in the opposite direction, bronze weapons, furs, ceramics, and cinnamon bark were sent China's way from the west.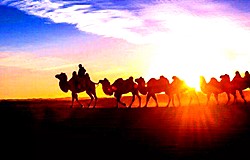 Fun Facts About the Silk Road:
Ancient China built the Great Wall partly to protect trade along the Silk Road from being attacked by nomadic groups. By the year 1453, when the Turkish Ottoman Empire occupied Constantinople, the Silk Road was blocked to prohibit foreign trade. But this urged the exploration of new routes to the orient that bypassed Constantinople, which later led to significant discoveries by famous navigators including Vasco De Gama and Pedro Cabral.
Romans were not direct trading partners with ancient Chinese merchants. In the middle of these two great empires were Persian merchants and other central Asians who played an essential role in bringing the two ancient powers together.
A Life - Time Adventure with Silk Road Travel
Be a traveler or history and culture enthusiast, Silk Road is one of the longest and interesting parts of world history. The trade route joined the world, governments, and people. Learn more with your Silk Road experience. On it, there are many valueble destinations in Northwestern China, which marks the significant influence of ancient times.

It is also a rich cultural journey into the heart of China, and we can provide what you need for a comfortable, enjoyable, and worry-free experience designed to suit you. Our tried and tested itineraries are modifiable. Tell us your interests and requirements, and we will tailor-made your Silk Road Tour