As the best Silk Road Operator in China, we have many clients from Singapore to travel the Silk Road with us.
Here are some frequent questions.
1, What are the flights recommended from Singapore?
80% of our clients take the TR flights from Singapore to Xi'an, which is the start city of the ancient silk route, it is famous for the well-known Terri-cot Warriors. The airfare of TR flights are very affordable, here are the suggested flights: 

 Singapore - Xi'an TR134(17:05-22:35)

 Xi'an - Singapore TR135(23:23-05:15)
2, Do I need Visa to Silk Road from Singapore?
Singaporeans have visas free of 15 days staying in China, no matter you visit Silk Road or Xinjiang, which is the part of the route, while we will prepare the document work if you visit Kashgar and other destinations along Silk Road. If your holiday is longer than 15 days, we will send you the visa support letter so that you can obtain the China visa quickly.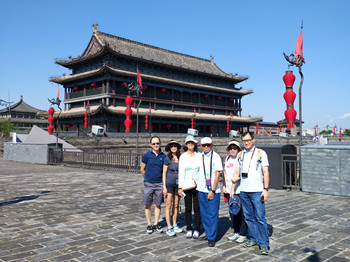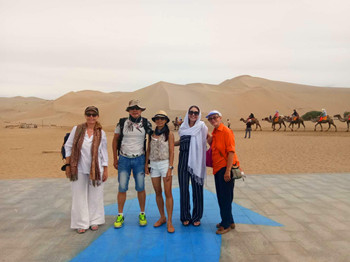 Singapore Group in Xi'an                                Singapore Group in Turpan
3, What are the most popular Silk routes Singaporean Group interested in?
According to our recent 3 years records, the top package is the 11 days Silk Road Luxurious Tour from Kashgar to Xi'an. Travelers prefer to come from Mid April to mid-June for the weather and price-wise,they also would like to go in Sept and Oct when are the fruit season and pleasant weather. Some travelers visit North Xinjiang and Silk Road together that they come around the first week of June for the flower season, and Sept when is the golden autumn. Please refer to the Best Silk Road and North Xinjiang Adventure. I suggest you come in June when the price is attractive and less crowded so that you can enjoy the holiday much.
4, Why take the Silk Road Holiday with us?
It is not easy to visit Silk Road compare with other destinations in China. Multiple ways of transportation ( flights, trains, coaches), we know every detailed information of the stations so that you will never get lost when coming out of the train station or airport. As a reputable travel agency, we check hotels, transportation, guides, drivers every year to make sure our suitable arrangements make you enjoy the holiday much. From 2007, we focus on Silk Road Tour packages and 98% excellent reviews about our service. Our CEO always tries to meet clients and collect the suggestions, so that promote our service, we treasure every clients' feedback. Besides, most of our clients are seniors, we look after you as our parents, friends, we know all your needs and worries. The price of 4persons in the private Tour is even cheaper than the large groups of other travel company and you can enjoy more!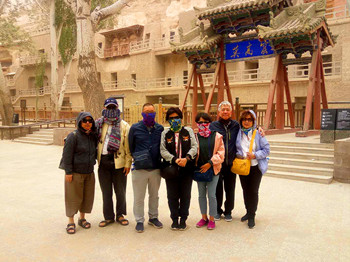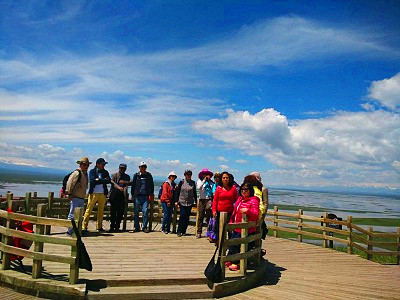 Singapore Group in Dunhuang                          Singapore Group in Bayinbuluk

Dear Friends, welcome to Silk Road, this legendary ancient route is very worth to visit for the profound history, rich folklore, and fantastic landscape. We will serve you the best possible food in the local restaurants. We promise you a great holiday. Let's meet in our hometown-Urumqi!