Silk Road Tours have been more and more popular for travelers around the world. The Silk Road starts from Xi'an in China to Italy through Central Asia and the Middle East since the Western Han Dynasty. There are many famous historical sites and caves in the destinations of these trading posts are preserved very well and worth to visit.
What is the Best time to Silk Road?
China plays an essential part of ancient Silk Road. But when is the best time to travel Silk Road in China? What is the Best time to Silk Road? It is a common question about the proper time to visit Silk Road. I want to share with you my personal visiting experience and the 15 years of operation knowledge.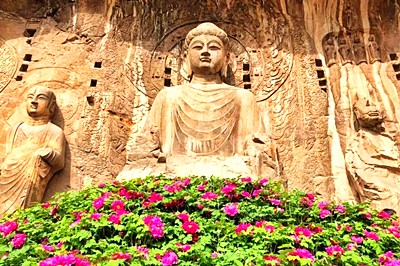 Longmen Grottoes
Generally, we suggest clients come from mid-March to the beginning of Nov. But let's go to learn more specific information about weather and time wisely about the main destinations about Silk Road. The climate varies in the different parts of the Silk Road Cities. There are some great festivals held in specific date in the cities of Silk Road. And what we should know is several main cities of China silk road.
From Mid March to End of April
The weather in Luoyang and Xi'an are mostly similar due to the location, and it is very convenient to visit Luoyang from Xi'an that is only a 1.5hrs fast train ride. April is the best time to visit Luoyang when is the time of Peonies is in the bloom season. And it is one of the best times to Xi'an as well for the fantastic spring view and all the streets and dressed with fresh green and kinds of flowers. What a prosperous and ancient City. The weather is also delightful. The temperature is from 5 to 25-degree centigrade. But please note March is the low season of tourism in Xi'an and Luoyang. You will have a good deal on the packages!
It is spring in Gansu and Hexi Corridor if you come to visit Mogao Grottoes and Zhangye Danxia Park. The climate is a little chilly in the night but warm in the day time, which is about 0-20 Degree Centigrade. Both March and April are the low seasons of Gansu Province with the landscape of spring green as well.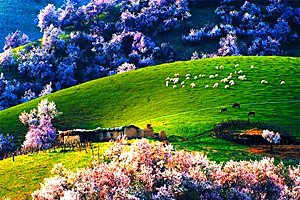 Xinjiang Apricot

You will have a great deal on the hotel rate. And if you come in March. There will be a discount on the entrance fee as well. 

Xinjiang is the center of Silk Road Culture and Unique Uighur folklore. It is still cold in March, which is about -5-10 Degree centigrade. But very important, it is time to enjoy the apricot flower at the end of March. You can enjoy the most beautiful Turpan and Kashgar. The festival of Spring Ploughingwill be held in Taxkorgan county of Kashgar when you can enjoy the local activities of Tajik people in the significant Pamir Plateau. It is excellent that both March and April are the low Tourism seasons in Xinjiang.
Suggest Itinerary:   15 Days Culture Exploration on the Silk Road
                               16 Days Silk Road Tour in Spring of March and April
From May to End June
It is the shoulder season of China Tourism; the price is very affordable and no crowd at all in all the sites. The weather is enjoyable for visiting all the destinations along this ancient route.
Average Temperature of Major Cities along the Silk Road (Low-High)

City

Xi'an


Lanzhou

Zhangye

Jiayuguan

Dunhuang

Xining

May

17~28

℃

12~26℃

10~25℃

10~24℃

10~27℃

5~20℃

June

22~33

℃

17~30℃

16~29℃

14~27℃

14~31℃

10~24℃

City

Hami

Shanshan

Turpan

Aksu

Kuqa


Kashgar

May

13~30℃

15~32℃

21~35℃

14~28℃

13~28℃

15~28℃

June

19~34℃

22~37℃

27~40℃

17~31℃

17~31℃

19~32℃
It is the time to have apricot, Hami melon, watermelon, peaches ... in June. We are pleased to arrange the visit to the friendly local orchard, such as the apricot in Dunhuang and the local Uighur family in Turpan. What a great experience talk with the farmers in western China!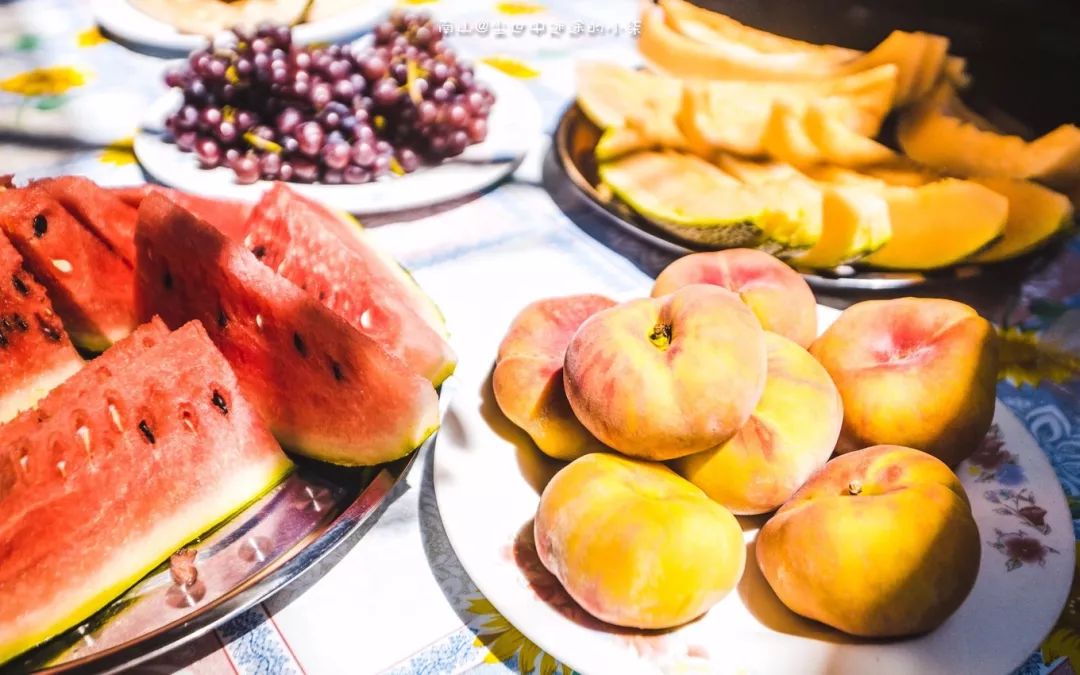 We highly suggest you come to Silk Road Xinjiang section in May and end June when is the best time to enjoy the fantastic grassland that covered by the wildflowers, bright red peony flowers, and orange-yellow wild tulips are competing to open, walking in the prairie, accompanied by the fragrance of flowers and plants in the air, a paradise on earth!
Sayram Lake in May and June is a sea of flowers. The flowers are blooming and colorful, and the scenery is charming, which makes people forget to return. As a paradise for people who like lavenders in China, every June, large areas of lavender flowers bloom in Huocheng county. Facing the clear breeze, the rich fragrance of lavender comes, and the purple flower field is as charming as a dream.
Suggest Itinerary:   12 Days China Silk Road Train Tour
                               18 Days Silk Road and Northern Xinjiang Tour
From July to August
It is the summer holiday in China. The weather is pretty hot; we suggest you try to avoid this period. While if you are keen to come at this time, the happiest is that the guides are super enthusiastic. Few inbound travelers make them full of energy to entertain you.
Average Temperature of Major City along the Silk Road (Low - High)

City/Month


Xi'an

Lanzhou

Dunhuang

Turpan

Urumqi

Kashgar

July

25~35

19~31


19~35

29~42

21~31


21~34

August

23~33

18~30

17~33

27~40

19~29


19~31


Visit Silk Road in September
With autumn comes the falling leaves and cooler weather. As school is in session, there are not so many Chinese people traveling, bringing some convenient transportation and accommodation. The scenic areas are not very crowded. It is the hot season of inbound travel; the price is the highest of a year. The suitable climate make the wonderful sightseeing and visiting along the Silk Road.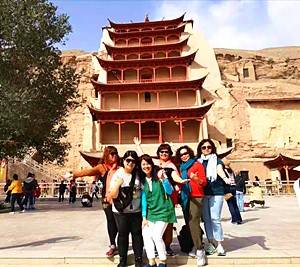 Our tourists in Dunhuang Mogao Grottoes
In Shaanxi Province, the autumn is a dry season, and the leaves begin to turn brown on the trees, making it a great time to travel. In Gansu, the weather is similar, although a lot colder, especially at night, when temperatures can drop to around 3-4 degrees by the end of November.
In Xinjiang, the autumn season is the golden season and time to harvest much of the fruit that has spent the summer growing. The weather has begun to cool, and the skies are clear and bright, making it the perfect time to visit the province, and we will try our best to arrange the guides in highly demand for plenty of travelers come at this time.
If you are going to explore North Xinjiang in autumn, have a autumn trip to Kanas; enjoy autumn leaves at Hemu Village; view the autumn hue of Five-colored beach at Burqin...
As the grapes of Turpan are ripe, which attracts tourists from everywhere to enjoy various kinds of delicious grapes, also appreciate splendid theatrical performances and unique and striking folk custom art. If they like, the activities of this Grape Festival will help people to appreciate the special touristic value, the folk customs and art of Xinjiang. 
Suggest Itinerary:   11 Days Best Silk Road Tour: Kashgar to Xi'an
                                18 Days Silk Road In-Depth Tour
Visit Silk Road in October
The same as September, October is also a good tourism season, while price is cheaper than Sept.The weather become a little cold with fewer crowd than last month, and the most magnificent scenery you appreciate is to travel South Xinjiang.
When you walk into South Xinjiang, you will find that it is not as barren as you think. Here is also a paradise for fruits, grapes, cantaloupe, red dates, pomegranates, mulberries, watermelons, figs ... not only taste sweet, but also cheap. In addition, the ethnic minorities have mixed cultures such as food, clothing, singing and dancing, and living habits.
Taklamakan Desert used to be in possession of glorious history and culture, with ancient Silk Road crossing the south end of Taklamakan Desert, where you can explored large-scaled and imposing diversified-leaved poplars. The unique poplars stand as if they were soldiers, guarding the vast expanse of desert.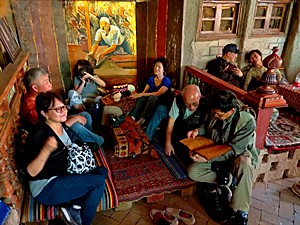 Our tourists in Kashgar Tea House
It's good that you are going to visit an oasis city Kashgar in Oct. The weather in Kashgar is not very cold in this time, So try to take some warm clothes with you. Autumn in Taxkorgan is spectacularly beautiful: scenic landscapes, scenery ofl ong river, round setting sun, desert, straight smoke, distinct human landscapes and strong exotic flavors. All these provide broad thinking space and you'll never regret visiting them.
In conclusion, I suggest you come to Silk Road in third week of March, April, May, June, and Oct when you can not only enjoy the leisure holiday with good price but the satisfaction of the service of all the related such as hotels, transportation, guides, operators etc. We will also try to provide the best possible service and price in other months.