As the most profound route of history and culture, the silk route is the best choice for the parents to let the kids know better about the development of ancient China. I usually have been asked if the Silk Road is suitable for kids. It is no problem. The facilities in each site along the silk road are promoted, such as express trains, good hotels, and toilets.
I take silk road inspection trip every 2 years in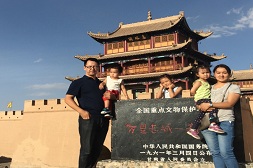 Lesley's family in Jiayuguan 2016
holidays with my kids. When they are very young below 5 years old, they just experienced, not interested in culture and introduction, but they are happy with the trains and camels riding — chasing playing in the parks. I want to share you some very different experience with my kids along the silk road.

   It was 9 years ago, our family of 3 visited Xiahe in the time of Sho Dun Festival. It was, and my 3 years daughter got a fever because of the high altitude and cold weather I assumed. Maybe in Summer, it will be no problem. Besides, everything is perfect. 
   The other memory was in 2016. We are already a family of 5 persons. We revisit Jiayuguan and Dunhuang. I think it was a hard job for Papa to hold the son to climb the Jiayuguan Fort, but his comments were no problem :).
   Very great experience. When we visited Mogao Caves, the 4D movie attracted the kids very much while we visited the caves. The two younger kids no interests at all. But my oldest daughter even prepared her notebook and followed up the professional guide closely. She told me many histories and interesting stories when we back to the hotel. And she is very proud that she visited this UNESCO when they studied at school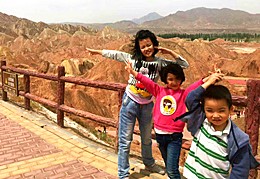 Lesley's family in Zhangye 2018
and made a precise introduction to her classmates.

   This year, we revisited Zhangye. Danxia Rainbow mountain becomes so popular in recent years. And the same with Dinggou Danxia. I have to figure out my judgment. I was born in Yili Prefecture Xinjiang. Where the landscapes are very familiar with Danxia Parks in Zhangye. I am a traveler like culture, history, and art.
If you ask me the comments in Danxia Park. Rainbow Mountain good to visit, while Binggou can be removed from your plan except you are very interested in hiking and geography :). Oh, I love the Matisi Temple located at the foot of Qinlian Mountain, beautiful and amazing. It takes you one and a half day to visit the Giant Buddha Temple. Matis Temple and Danxia Park. I have no time to check the Kaoshan Tent,but seems quite good from the comments of our clients.

   In conclusion, Silk Road is good for the family holiday with kids. And as the mother of three kids. I will look after you and your kids very well :) We are waiting for you :)