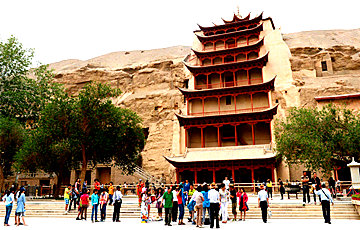 Mogao Grottoes
The Mogao Grottoes or Mogao Caves, also known as the Caves of the Thousand Buddhas, form a system of 492 temples 25 km southeast of the center of Dunhuang, an oasis strategically located at a religious and cultural crossroads on the Silk Road, in Gansu province, China. The caves may also be known as the Dunhuang Caves, which contain some of the most excellent examples of Buddhist art spanning a period of 1,000 years. The Mogao Caves are the best known of the Chinese Buddhist grottoes and, along with Luoyang Longmen Grottoes and Yungang Grottoes in Datong, are among the three famous ancient Buddhist sculptural sites of China.

Features
Chinese Name: 莫高窟 (mògāokū)
Location: 25 km (15.5miles) from downtown Dunhuang on the eastern slope of Echoing-Sand Mountain
Custom Service Center: +86 4008-333-715
Opening Time (Mon. - Sun.): 08:00 - 18:00 1st Apr.- 30th Nov.
                                                09:00 - 17:30 1st Dec. - 31st Mar.
Tickets: CNY 258/PP (peak season)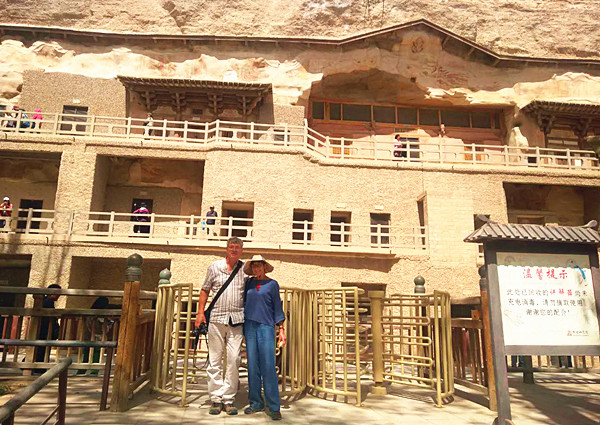 Our Clients in the Mogao Grottoes
              CNY 168/PP (off-season)
Recommended Time for Visit: 3-5 hours
Best Time to Visit:
Dunhuang has a typical continental arid climate with dry, and little rain all year round. There is a large temperature gap between daytime and night. Summer and autumn (May to October) are the best seasons for travel Dunhuang because there usually sand storm in spring. And it is too cold in winter. What's more, be fully prepared for the intense sunlight and wind whenever you are planning to visit Dunhuang, .
Transportation:
1. Take a bus from Dunhuang Railway Station to the caves directly, which also passes by Dunhuang Hotel and Silk Road Hotel.
2. It takes about 30mins to take a taxi to Mogao Grottoes.
History of Mogao Grottoes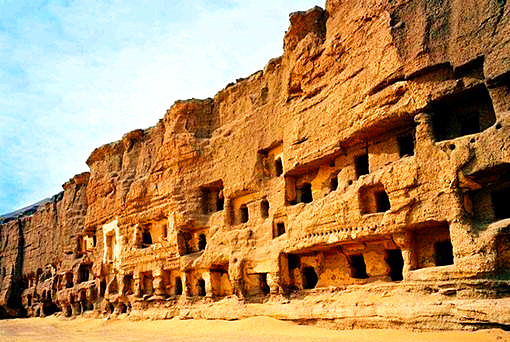 Mogao Grottoes
Temples in China (Taoist and Confucian) with well adapted to most Chinese conditions, were made of wood before the arrival of Buddhism from India. The tradition of cave temples originated from India, where poverty, lack of building material, and intense heat had necessitated finding alternative methods to temple buildings.

The complex of cave temples emerged at Mogao in 4th century, as pilgrims, monks, and scholars passing along the Silk Road settled here to meditate and translate sutra. Merchants and nobles stopped here, too, endowing temples to ensure their business's successor to benefit their souls.
According to legend, the first cave was established in 366 AD by Yue Zun, a monk who dreamed of 1,000 golden Buddhas when he was traveling home across this region, and he decided to turn his dream into reality by painting them on the wall of a cave that the murals were designed initially to assist devotional contemplation but eventually acquired a narrative purpose as well.
There were a large number of artists and artisans being employed at the caves, they often lying on high scaffolding and painting by the dim light of oil lamps. They usually lived in tiny caves in the northern section of the complex, sleeping on brick beds and paid only a pittance.
Over the next 1,000 years, ten dynasties rose and fell, and artists of each family contributed to the caves.
Today, the site is a famous tourist attraction and the subject of an ongoing archaeological project. The Mogao Grottoes became a World Heritage Site in 1987.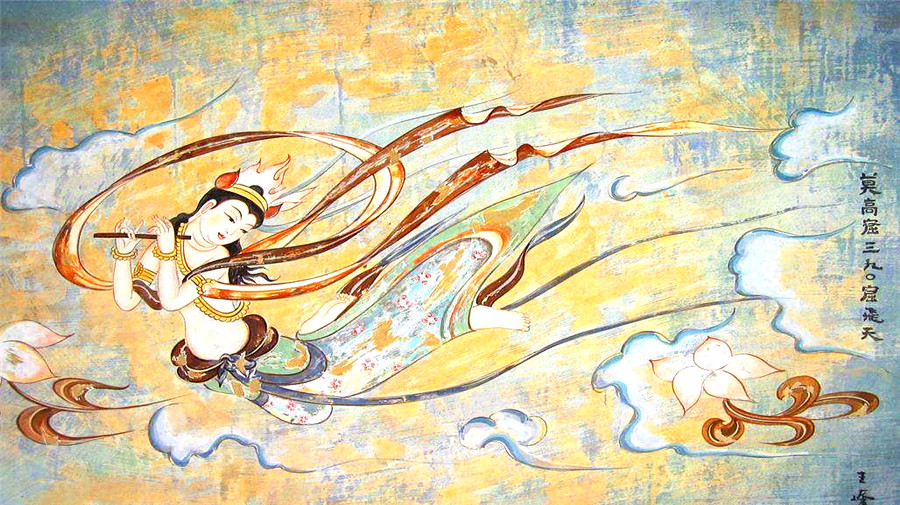 Mural in the Mogao Grottoes

What to Visit in Mogao Grottoes
Grottoes
So far, there are 492 grottoes, with murals and painted clay figures. There are meditation grottoes, Buddha hall grottoes, temple grottoes, vault-roofed grottoes, and shadow grottoes. The largest cave is 40 meters high and 30 meters wide, whereas the smallest is less than one foot high.
Murals
Early murals showed a strong Indian and Central Asia influence in the painting techniques used, the composition and style of the paintings as well as costumes worn by the figures, but a distinct Dunhuang style began to emerge during Northern Wei Dynasty.
The most fully painted caves have paintings all over the walls and ceilings, with geometrical or plant decoration filling the spaces not taken by figurative images above all of the Buddha. These murals document the changing styles of Buddhist art in China for nearly a thousand years. The artistry of the paintings reached apogee during the Tang period, and the quality of the work dropped after the tenth century.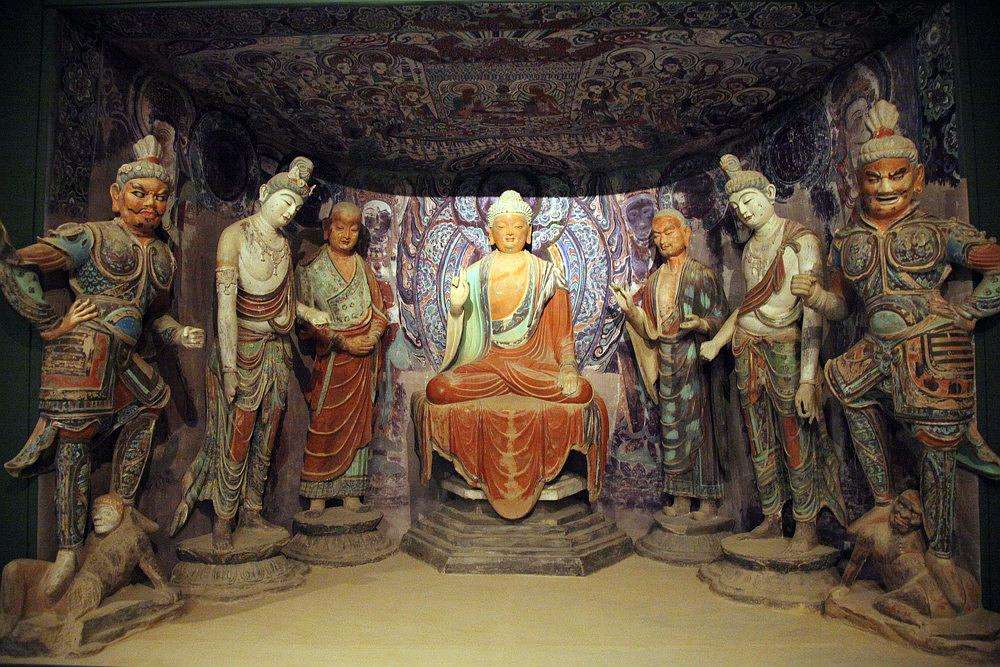 Painted Clay Figure

Painted Clay Figures
These painted clay figures are the main treasures of the Dunhuang Grottoes, where the characters are in different forms, including round numbers and relief figures. They show such a great variety of themes and subject matter, as well as advanced techniques that the Mogao Grottoes are generally regarded as the world's leading museums of Buddhist-painted clay figures.
Sculptures in Mogao Caves
There are around 2,400 surviving clay sculptures at Mogao. The Buddha is generally shown as the central statue, often attended by bodhisattvas, heavenly kings, devas, apsaras, along with yakshas and other mythical creatures. Figures from the Sui and Tang periods may be present as larger groups of seven or nine, and some showed large-scale Parinirvana scenes with groups of mourners. The early sculptures were based on India and Central Asia prototypes, with some in the Greco-Indian style of Gandhara. As time goes by, the sculptures showed more Chinese elements and became gradually sinicized.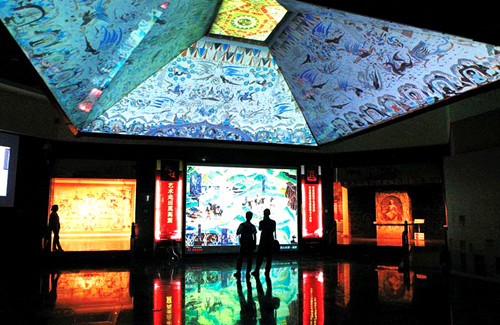 Digital Exbition Center
Digital Exhibition Center
The center located 9 km east to Dunhuang city, around 16 km from Mogao grottoes, was open on August 1st 2014, which covers an area of 100, 000 sq meters with total investment of more than 3,000,000 RMB. It uses digital technology and multimedia tools to display the historical and cultural background of Dunhuang as well as the exquisite cave art of Mogao. The center was an important part of Mogao grottoes protection and development project, and was approved by National Development and Reform Commission.
Buddhist Culture
The Mogao Grottoes experienced their heyday of construction during the Sui Dynasty (518-618), a golden age for Buddhism in Chinese history.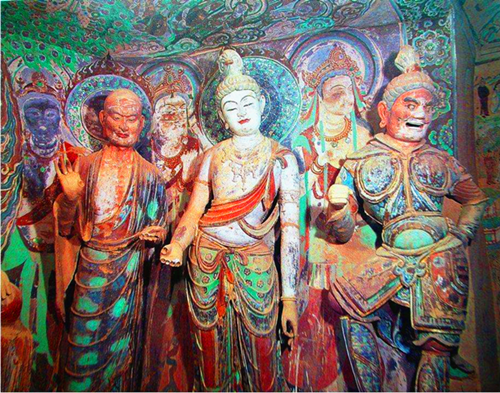 Buddha Statue in the Mogao Grottoes
Born and brought up in a Buddhist nunnery, Emperor Yang Jian, founder of the Sui Dynasty, was an enthusiastic Buddhist. He made Buddhism the national religion after he united the whole country. About 5,000 temples were built, thousands of Buddhist sculptures were carved, and there were some 500,000 Buddhist monks and nuns. In this period, a large number of grottoes were cut at Mogao. Murals in this period were freed from the limit of foreign arts and demonstrated liberated dynamic creativity.

Cultural Heritage
The Mogao Grottoes show examples of various types of art, such as architecture, painting, and statuary. The caves at Mogao display a unique artistic achievement by the organization of space into 492 caves created on five levels and by the production of more than 2,000 painted sculptures and approximately 45,000 square meters of murals among which are many masterpieces of Chinese art.
Cave 302 of the Sui Dynasty includes one of the oldest and most vivid scenes of cultural exchanges along the Silk Road, which displays a camel pulling a cart typical of that period's trade missions. Caves 23 and 156 of the Tang Dynasty depict workers in the fields and a line of warriors. Cave 61 of the Song Dynasty, the famous landscape of Wutai Mountain, is an early instance of artistic Chinese cartography. It depicted everything, including mountains, rivers, cities, temples, roads, and caravans.
Our Clients in the Mogao Grottoes
Travel Tips
1. Shuttle bus service is available between the caves and the Digital Exhibition Center. Visitors can enjoy two incredible movies at the digital exhibition center and then take the shuttle bus to visit the caves.
2. Taking photos is not allowed when visiting inside the caves and Mogaoku Museum. But you can take pictures outside the caves. An electric torch may be necessary to see inside Mogao Caves.
Recommended Tours to Mogao Grottoes
6 Days Gansu Tour                                                        8 Days Silk Road Tour from Lanzhou to Urumqi