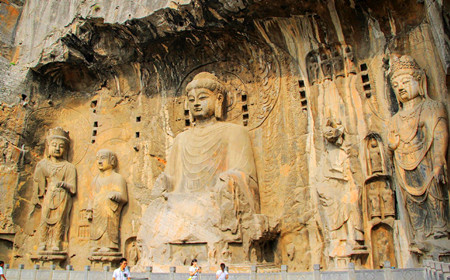 Longmen Grottoes
Listed as a UNESCO World Heritage Site, the Longmans Grottoes represent the high point of Chinese stone carving. It has more than 2,300 caves and niches that were delicately carved into the limestone cliffs of over one kilometer long. There are around 110,000 Buddhist stone statues and more than 2,800 inscriptions carved on the stones, as well as plenty of historical materials regarding religion, art, calligraphy, architecture and more. The Longmans Grottoes are considered some of the finest examples of Chinese Buddhist art. Some call them the encyclopedia of Chinese Buddhism. Although the cave was built in ancient times, the influence of the foreign culture can be found in the magnificent art. 
The history of Longmen Grottoes: 
Longmen Grottoes
The construction of the Longman Grottoes began in the late 5th century during the reign of Emperor Xiaowen when the Wei Dynasty moved its capital from Datong (where they created the famous Yungang Grotto) to Luoyang. At this time, Chinese Buddhism was reaching its first peak, and the emperor was a pious believer. Carving continued after the Wei Dynasty through the successive six dynasties, including Tang and Song, for a span of over 400 years and the Tang Dynasty witnessed the second peak of Buddhist belief.
The statues of Buddha:
When Siddhartha Gautama ventured out of India centuries ago, each modern-day Asian country interpreted his Buddhist teachings differently. The Longman Grottoes in central China's Henan Province features ten thousand Buddha statues sculpted in caves. For instance, the Giant Vairocana Buddha, must-see of the site, which sits high in a cave. 17 meter-high statues were carved into the cliff centuries ago. According to the people it resembles Emperor Wuzetian from the Tang Dynasty, sculpted with vigour and grace. Whether it's true or not but when Buddhism was introduced to China, it has incorporated many local elements.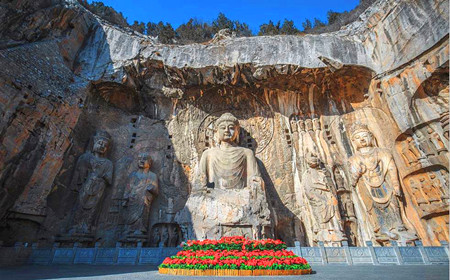 Longmen Grottoes
Take this sculpture of Sakyamuni as an example. Its thin face, slim body and light robes represent a major shift from the so-called Gandhara style found in India. Apart from Buddha's, the architecture style of these caves also evidences the localization of Indian Buddhist art, such as in the details of the ancient Chinese pagoda, and the wooden structure of the Chinese palace.   
Best time to Visit:
Spring and autumn are the best seasons to visit the Longman Grottoes. Summer can be very hot and winter bitingly cold. Meanwhile, The Annual Luoyang Peony Flower Festival from 10th to 25th April is the best time to see the blooming peonies, so there may be some interesting activities during the festival.
Opening Hours & The Entrance Fee
Opening Hours

Feb - Mar. 08:00 - 18:00

1st Apr - 7th Oct. 08:00 - 18:30

8th - 31st Oct. 08:00 - 18:00

Nov - Jan. 08:00 - 17:00

The Entrance Fee

CNY 90 ( including grottoes on East and West Hills, Xiangshan Temple and Bai Garden )

Free for children below 1.2 metres.
Luoyang Attractions:
Recommended Luoyang Tours: