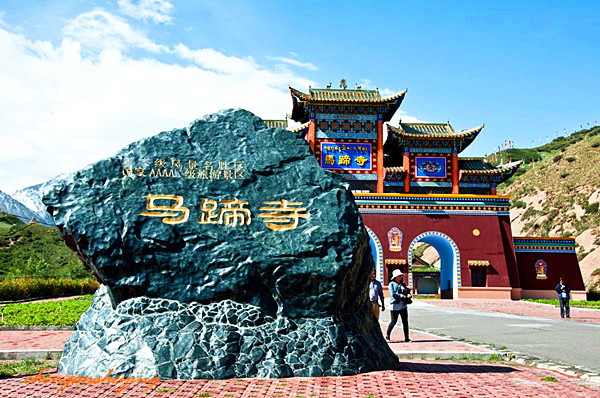 Mati Temple

Mati Temple, located at the foot of Linsong Mountain, is about 80 km away from the South Yugur Minority Autonomous County of Gansu Province. The temple gathered the culture, the landscape, and the religious together, was built in the Jin Dynasty.

Known for its charming landscape and cut between the cliffs, it is a good place to admire grottoes buildings, murals, Buddha statue and other ancient relics. It ranks of one of the top three Hexi Buddhism culture grottoes in China, due to its long history and important culture meanings
Chinese Name: 马蹄寺
Location: Sunan Yugu Nationality autonomous county, Zhangye, Gansu, China
Tel: +86 936-8891646
Opening Time: 08:30-18:00
Ticket: CNY 75/PP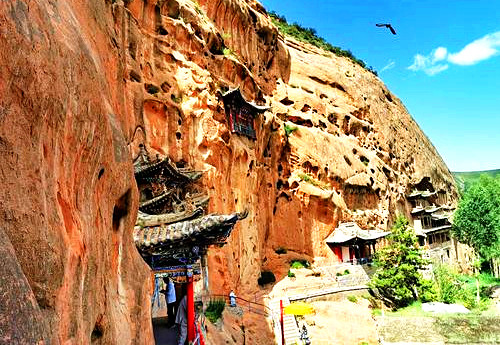 Mati Temple

Best Time to Visit: All year round is available for visiting Mati Temple. But if you are fond of colorful grassland, plan your journey in autumn. Red leaves, orange grass and yellow desert, you will taste the tenderness as well as grandeur. But please kindly note to avoid the National Day Holiday.
Transportation: Mati Temple is located in the Yugur Minority Autonomous County in Su'nan, about 65 kilometers to the Zhangye City in the north and 96 kilometers away from another famous scenic area- Zhangye Danxia National Geological Park.
The distance from the Zhangye downtown to the Mati Temple is about 70 kilometers, it will take more than one and half hours driving due to the steep road.
Public transportation to Su'nan is also available in the Nanguan Long-distance Bus Station of Zhangye (leaving every thirty minutes). You can take a taxi or a mini bus to Mati Temple after arrival at Mati Si village (7km from the scenic area).
History of the Mati Temple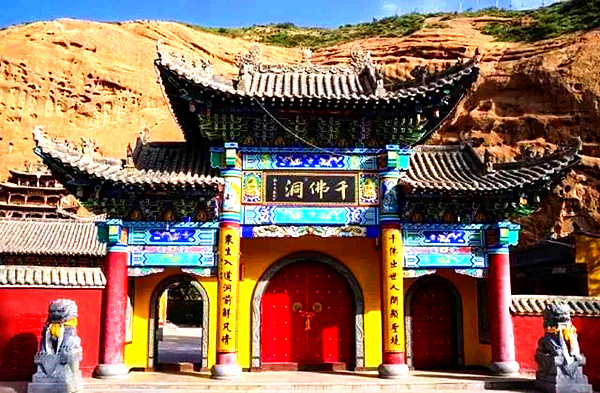 Thousand Buddha Caves

No an official record says when did Mati Temple build. According to a history material which is dated back to Eastern Jin Dynasty, a traveler family name Guo in that period described a grottoes in his travelogue " Travel to Zhengye, and then live in Linsong Valley, and chisel a cave to dwell" Another record continue to describe the grottoes as following "After Guo chiseled the cave, posterity continued to enlarge it and then create Buddha sculptures inside." Moreover, most caves were rebuilt or renovated between Northern Wei and Ming Qing dynasties.

What to See
Mati Temple can be divided into North Temple, South Temple, Thousand Buddha Cave, Golden Pagoda Temple, Avalokitesvara Caves and so on. Because the mountain was formed by coarse red sandstone which was not suitable for carving, most of the grottoes are clay sculptures.
North and South Mati Temple
Thirty-three Heaven Grottoes

Mati Temple includes North Mati Temple and South Temple. In Mati Temple, one attraction you must see is Thirty-three Heaven Grottoes where a large quantity of tourists flock into. This construction is rather infrequent and characteristic in a shape of pagoda. There are four towering peaks and each peak has one heaven and each heaven lived an immortal in Buddhism. In addition to the central heaven, there are 33 heavens in total. All Buddhists believe that anyone who can reach to the thirty-third heaven will come to a successful life. So everyone who comes to Mati Temple will climb up to Thirty-three Heaven Grottoes to have a spirit-washing experience.

Thousand Buddha Caves
Thousand Buddha Caves was a Tibetan Buddhist Temple constructed in the Yuan Dynasty (A.D. 1271 - 1368) and now is a Chinese Tibetan Buddhist Temple. The whole caves can be divided into three parts: north section, middle section and south section.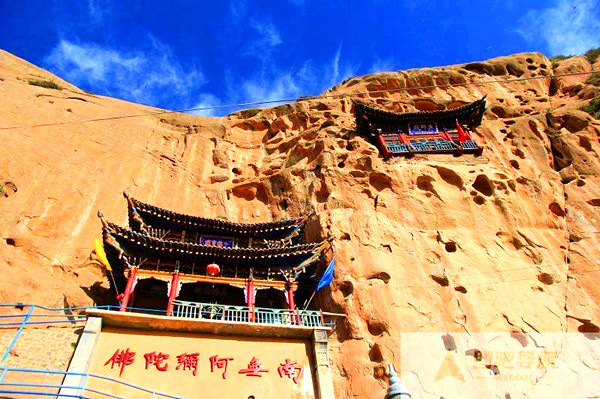 Thousand Buddha Cave

Pagoda Forrest is located in the north section. There are dozens of pagodas in different shapes densely scattered in the red palisades forming a holy forest. Although most of them were built in the Yuan Dynasty (A.D. 1271 - 1368) and have been weathered a lot in the long time, these pagodas still remain their bright color and distinct lines.
The south and middle section are mainly built with many Buddhist Grottoes. No. 6 Grotto named Western Three Saint Palace is one hot grotto. It was carved in the prosperous Tang Dynasty (A.D. 618 - 907), 5m long, 5.5m wide and 5.5m high. One Buddha statue with plump face and naturally proportionate shape sat in the center of the grotto.
Golden Pagoda Temple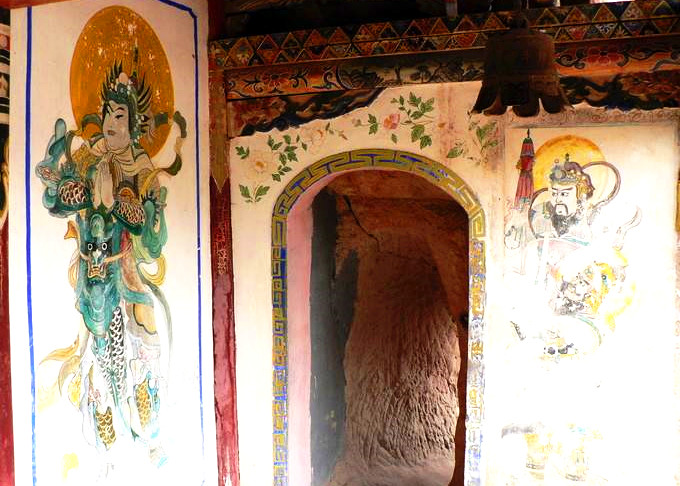 Avalokitesvara Caves

Golden Pagoda Temple will be the essence of Matisi Temple without any doubt if Thirty-three Heaven Grottoes is a dazzling pearl in Matisi Temple. Located in the southeast of the North Matisi Temple, it is hanging high in the cliff and 60 meters from the ground. The large-scale Apsaras is one of the Eight Accomplishments of Buddhism and reputed as the Essence of Eastern Aspsaras. With various postures and vivid expressions, these Aspsaras look quite third-dimensional.

Avalokitesvara Caves
Avalokitesvara Caves, surrounded by thick bushes and trees, is made up of Upper Grotto, Central Grotto and Lower Grotto where Buddhist Princesses and one follower respectively stand. Three Grottos are located in three stone peaks. There is one stone column in each grotto, engraved with beautiful murals. The environment is very peaceful and you will get rid of all your annoyance and unhappiness.