The Jiayuguan Pass has been the anchor of the westernmost point of the Great Wall in Ming Dynasty, dubbed "China's greatest pass under heaven", having served as a passageway for armies, merchants and envoys in the old days. In Ming Dynasty, great wall further improved its building style and defending methods and reached the summit with construction of Jiangyuguan Pass. The pass is the largest and the most complete militar defense system with the most beautiful landscape among the historical sites of Chinese great wall as an encyclopedia and building museum of great wall.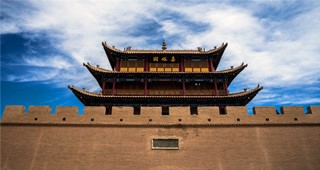 Brick and shaped like a trapezoid wide in the west and narrow in the east. On top of both sides of the wall are built 1.7-metre-high brick buttress with crenels on the external wall, like bunkers. One can see magnificent crisscrossing high walls and forest-like battlements in a distance and colourfully painted lintels and beams with bright colours and delicate craftsmanship with a close look It is described as "jade-like tower built by fish-scale tiles and Polished bricks and decorated by all colours". Jiayuguan Pass has been listed as a National Key Cultural Relic Protection Unit and in the World Cultural Heritages.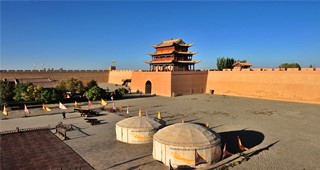 Jiayuguan Pass is a huge building, the grate tower has many stories and hanging cornices, grand and magnificent. On both wings of the pass winds forward the solid great wall with many beacon tower towers reasonably set as a tightly guarded military defence system. As a key building, the pass is designed with tasteful style, it includes inner-city, barbican, outer city, tower and auxiliary buildings with multi-layer walls and tight guards, which is east to guard but not to attack. The inner city is 9 metres high and 640 metres in circumstance covering 2, 500 square meters, the city wall is built by hammed loess and adobe brick and shaped like a trapezoid wide in the west and narrow in the east.