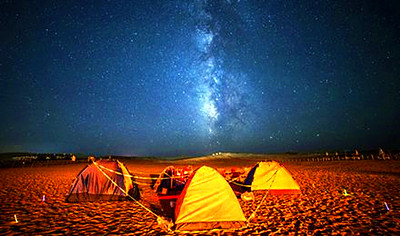 Camping in the Desert
One of the best ways to experience the pristine wilderness of China is by camping! Silk Road Camping gives you a chance to the unbelievably starry skies and the untainted sounds of nature. Whether you' re stayingl at a base camp or next to a remote desert, it's an experience that you'll never forget!

Where you'll be camping? What should you bring? And what's provided for you on your tour? Follow our step, and we will provide camping to three deserts along the Silk Road.
Camping in Dunhuang Echoing Sand Mountain
Dunhuang, an ancient city in Gansu Province, Western China, was the gateway to what was called the "Silk Road," leading to Central Asia and Europe. One of the wonders in Dunhuang City is echoing-Sand Mountain, five kilometers (about three miles) south of downtown Dunhuang. The rolling sands make different sounds, some like orchestral music, and others like thunder if someone climbs up or slides down the Mountain. The phenomenon that the huge dune is so named because its sands make sounds is a marvelous spectacle of nature.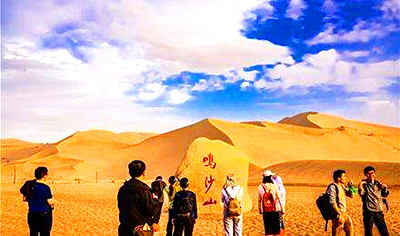 Dunhuang Echoing Sand Mountain
How to Get to the Camping Base
The camping base is in the back hill of Mingsha Mountain. The person in charge of the camping base will generally send a car to pick you up in the urban area (low season), as long as you sign up for camping. And will pick you up at the designated place during the high travel season (arrive on time)
After camping, transfer you to the urban area the next day, according to the number of people who arrange cars or buses. Generally, visitors will be picked up from 17:00 to 18:30 on the same day, and activities will officially start at 20:00 that everyone can experience camping.
Opening Time of Camping Base
Camping Activities
Generally speaking, it is suitable for desert camping from late April to mid-October, and the camping base is closed at other times.

17:00-19:00 is the time for picking up and dropping off tourists in a camping base, according to your schedule.
20:00 starts various experience projects of desert camping on time. You will be the first to experience if you are early arrival, and you can participate in at any time, but miss part of the experience if you are late.
The desert camping starts (tents can be set up by yourself, or you can turn to the staff) at about 12:30 in the evening, you can watch the sunrise (voluntary), and return to the tourists to the city around 7:00.
Campfire and Desert KTV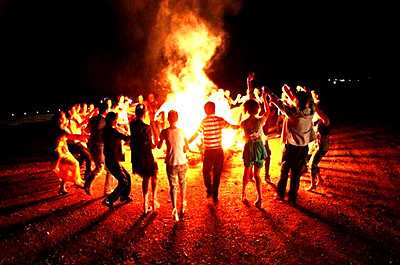 Campfire in the Desert
Usually, people gather at six or seven o'clock, and then enter the camp through beach motorcycle/camel ride, the leader will help you build a small tent in private space. After dinner, you can experience a desert motorbike, sand-skiing, or climb the top of the Mountain with your friends to watch the sunset at night.

The campfire party usually starts around 22:30. Tourists from all over China and globe group around the bonfire and dance and sing. There are staffs to organize interesting interactive programs and liven up the party. The campfire party lasts about one and a half hours. If you are tired, you can go to the tent to rest or enjoy the beautiful sky of stars.
Camping in Zhangye Bajaran Desert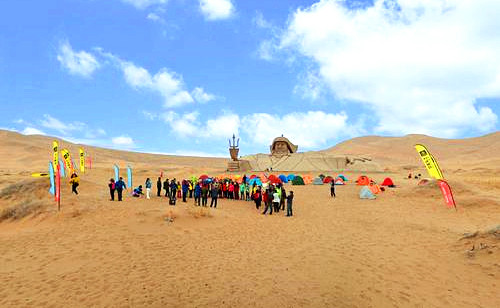 Badanjaran Desert
Badanjaran desert, as China's most beautiful desert, boasts some natural wonders such as singing sand, lake, spring, and temple. It covers an area of almost 47,000 square kilometers, making it the fourth largest in the world. It has become a resort for Chinese and foreign tourists to travel and explore.

The regular route is to stay in the desert hinterland for one night and then leave the desert after watching the sunrise the next day.
The best time to go camping is from June to October. Badain Jaran Desert Interior Area belongs to Temperate arid and extremely arid climate zones. Its average annual temperature is 44.6F-46.4F. The average rainfall is 50-60mm and is centered from June to August, but precipitation evaporation is 40-80 times higher than rains. In Winter and Spring has strong winds mainly northwest getting to more 60 days to 30 days or so.
Camping in Taklamakan Desert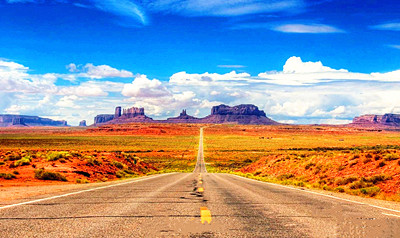 Taklamakan Desert Highway
The Taklamakan Desert, located in Xinjiang, China, is a desert of Central Asia. Covering an area of 270,000 km of the Tarim Basin, 1,000 km long and 400 km wide, it is known as one of the largest sandy deserts in the world. It is crossed at its northern and southern edge by two branches of the Silk Road as travelers sought to avoid the arid wasteland.

Recomended Taklamakan Desert Camping Route
Day 1 Hotan Arrival
Today you will take the flight to Hotan, meet with our guide at the airport. Then take you to visit Hotan Bazaar, Hotan is particularly famous for its high quality Jade products, the best Jade in China being found here in the White Jade River. We will also visit the Jade factory to see how the Jade is processed and made into jewelry.
Day 2 Hotan - Desert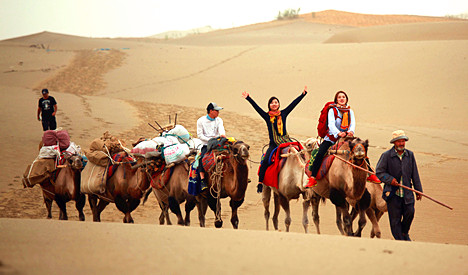 Our Clients in the Taklamakan Desert

Morning after delighted buffet, pay a visit to Hotan Museum, built at South Tanai Road, Khotan City in 1991, the museum has a floor space for exhibition of about 200 square meters. Then we will purchase supplies needed to enter the desert after lunch. Take a camel ride out into the Taklamakan Desert and camp overnight here, enjoy a camp fire dinner in the desert

Day 3 Desert - Hotan - Kashgar
After breakfast in the desert, we will drive to the next stop, Kashgar. It has been an important trading centre on the ancient Silk Road and is now a multi-ethnic region. Upon arrival, transfer to the hotel and check in.
Day 4 Kashgar - Karakul Lake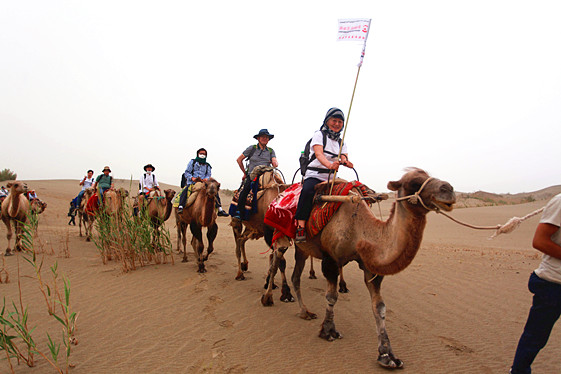 Our Clients in the Taklamakan Desert
Today drive all the way to Karakul Lake, which is 3600 meters above sea level. It is located between Mt. Mustag and Mt. Gonger, which are said to be 2 of the 6 most beautiful mountains in the world. There are Kirgiz settlements along the shore of Karakul Lake, a small number of yurts about 1km east of the bus drop-off point and a village with stone houses located on the western shores. After visiting, back to Kashgar downtown hotel.

Day 5 Kashgar Departure
We will begin our tour of Kashgar city by wandering through the narrow winding streets of the historic Old Town. Located at the spiritual heart of old town is Id Kah Mosque, the largest mosque with Islamic life of the Uyghur people in China. After visiting, we will take you to Kashgar airport for your next destination
Camping Tips
To ensure a memorable camping with nature and stay outdoors, follow the guide below and make you a perfect camping in China.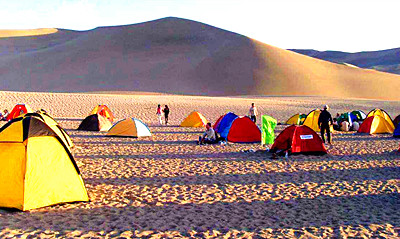 Camping in the Echoing Sand Mountain
a. Figure out what to bring, and make a choose of a backpack. Don't forget the tent, sleeping bag, and pillow. The size of tent depends on how many people are squeezing in.
b. Make any camping experience smooth sailing, but remember that it's best to camp with others someone can always call for help in an emergency.
c. Slather on the sunscreen, and wear a hat and sunglasses to keep the sun out. Drink plenty of water to avoid dehydration, too.