The Id Kah Mosque is situated on the Idigar Square has a history of more than five hundred years. Id Kah' means a place of praying and celebrating in festivals. As the biggest mosque in China, it is a group of old Islamic buildings with strong ethnic style and religious features. Shakesimirzha, the ruler of Kashgar, had the mosque built here first in 1442 as a very small structure Extended and renovated time and again through the age, it has finally reached its present shape and size.
   This grand Islamic structure is a stark contrast to the many Chinese-style mosques in Xi'an. This yellow-and-white structure has a central dome and flanking minarets, which usually associated with mosques in Pakistan or Afghanistan. Shakesimirzha, a ruler of Kashgar, had the mosque built here first in 1442 and it was extended to its present shape through several renovation work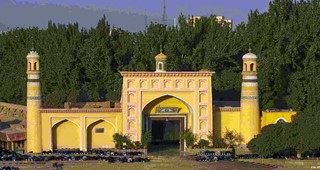 Every Friday afternoon, muslims from faraway or nearby places must come to this large mosque to attend Salat ( prayer ). It is called "Juma Day" . During the Corban Festval, people from all parts of Xinjiang will come to this mosque. The largest in China, it attracts as many as 10 000 worshippers at prayers on Friday afternoon. After the prayer, muslims will gather at the square in front of the mosque and jubilantly dance, a dance called Saman. The carnival would last until it dawns. The compound buildings consist of Hall of Prayer, Doctrine-Teaching Hall, a gate tower, a pond and some auxiliary rooms. The gate is the most eye-catching one. The front gate of the mosque has a solemn air. The circular columns on both sides are partly inserted into the walls. On the top part, a minaret has been erected, symbolizing the crescent of Islam, which is 18 meters high where the Islam would call out loudly at dawn to wake up the Muslims and summon them to attend service. In the courtyard where green trees are luxuriant and shadowy, there is a pond, and on its bank many pottery pots are placed, which are to be used by the Islam believers to clean their bodies. The main hall was built of timber framework with a decorative wooden ceiling.
Tips: 

Do not speak loudly in the Mosque
It is not a proper time visiting the Mosque when they are at service
Address: Center of Kashgar Old City
Tel: +86 282 7113
Opening time: 09:00am to 17:00pm