In China, there is much unique beauty that only be found in Northern Xinjiang. Your journey will start with a trek to Hemu Village, one of the most beautiful villages in China. Walk-in a peaceful lifestyle to explore its distinct ethnic culture as well as numerous fantastic natural landscapes and continue the inspiring hiking to the picturesque Kanas Lake.
Kanas Lake trekking is known as one of China's top classic routes. What is done in vain that you come to Xinjiang not to walk once kanas. Walking through Kanas is also the biggest harvest of your trip to Northern Xinjiang. Refer to the Trekking Guide below.
Kanas Lake and Hemu Village Trekking Suggestion:
Jiadengyu - Hemu - Black Lake - Kanas Trekking Map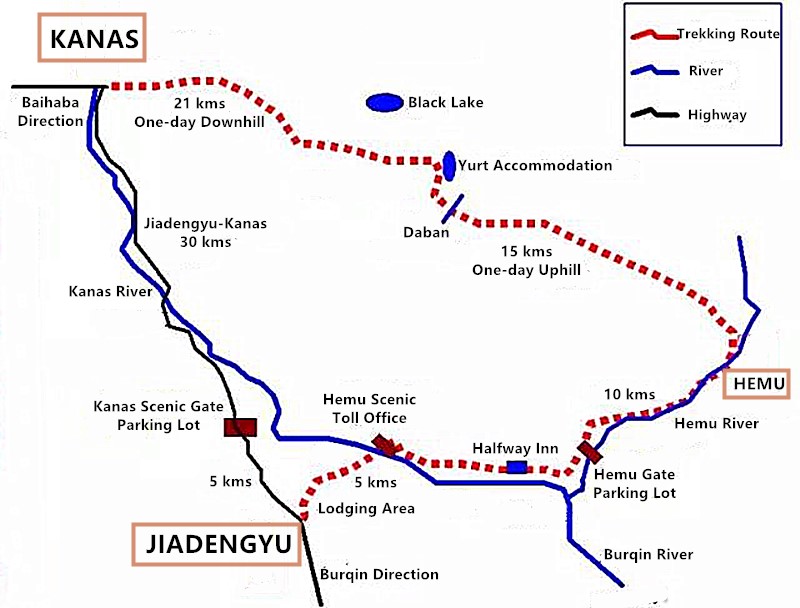 Day 1 Jiadengyu - Hemu (30 kms, 8hrs trekking)
Jiadengyu is the entrance for Kanas National Park, travelers to Kanas will pass here. Hemu Village is widely considered the most beautiful village in China because of its fascinating natural beauty in autumn. It is the most remote and most significant of the three habitats of the Tuvas, an ethnic group that still lives a simple, ancient lifestyle by hunting and grazing animals.
You are walking along the Kanas Lake and Hemu River, where just the horse road is relatively smooth all the way, choose to stay inn halfway or ride horses, and by motorcycles, if you are tired.
Day 2 Hemu - Black Lake (18 kms,  7hrs trekking)
Trekking from Hemu to Black Lake, there are more than 10 kilometers of uphill sections later, and you need to turn over a Daban about 2300 meters. This is quite a large period of physical exertion with no supply on the road; the only yurt on the top of the mountain can be selected. Or you can choose to ride a horse.
It is best to leave this section before 11:00 am because of the poor road condition. The temperature will drop suddenly if the sun sets, and it is difficult to distinguish the road with many forks.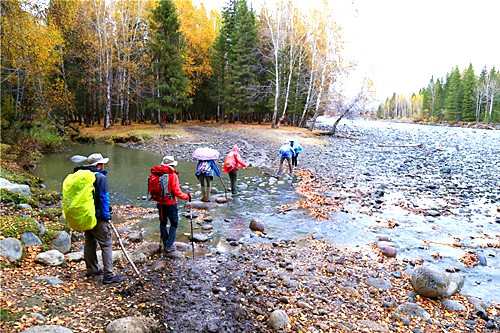 There is no signal in the place where Black Lake stays, and the equipment is not easy to charge. Although climbing to the top of the mountain on both sides will be a weak signal, it will consume a lot of energy.
Day 3 Black Lake - Kanas (21 kms, 7hrs trekking)
Trekking from the Black Lake and Kanas, there are relatively downhill sections, and the route is smooth all the way. Kanas Lake, a clean alpine lake, hidden in the dense forests, has an unknown story beneath its water surface. This amazingly beautiful lake bears with both fear and curiosity of people for several centuries. It located in the Altay prefecture in northwest Xinjiang of China, is one of the most beautiful natural scenery in China with alpine mountains, rivers, forests, and grasslands. The color of the lake changes with the seasons and weather due to light and temperature difference, which adds more mystery for Kanas Lake.
Day 4 Have a rest after Trekking
Today you can finally take care of yourself, It has been a few days on foot, it's pretty good to have a barbecue, make a big plate of chicken, and enjoy a bottle of pineapple beer.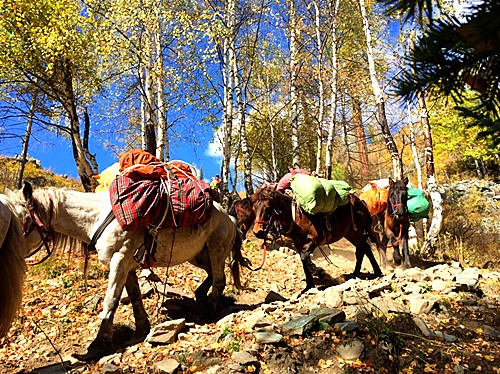 Rest of the day, you can trek from the center of Kanas Lake Scenic Area to Fairy Bay, then get off at Moon Bay from the shuttle bus, go down to the Kanas River, take photos while walking about 2 kilometers to Wolong Bay, with the magnificent riverside landscape.
You can extend your Kanas Trekking Adventure to the North Xinjiang or the other popular destinations of Xinjiang, we are very happy to arrange your Xinjiang holiday with very excellent service and price. Contact us
How to get to
The starting point from the capital of Xinjiang, Urumqi. Head for the "High-Speed Rail International Bus Terminal" (located at No. 236 North High-speed Railway Road, Shayibak District, Urumqi) and by a ticket to Burjin.
If you don't want to spend a night on a bus, you can take the flight from Urumqi to Burqin, the airport is called Kanas Airport (KJI).
Best Time to go
Due to the long winter in the area, the best time to visit Kanas is from August to the end of Sept.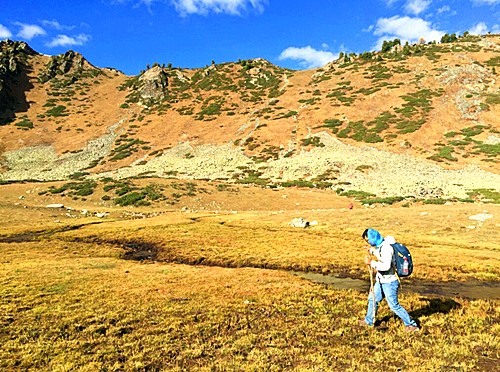 The Kanas is situated in the cold temperature zone. The long winter season lasts seven months; spring and autumn link up without a bright summer all year-round, and the frost-free period reaches 80 to 108 days. The climate here is pleasant from early June to Mid-October each year; the average temperature is around 16°C, with a relative humidity of 63% even in the hottest month of July.
Hiking Equipment
If you are traveling through heavy equipment, bring all your usual outdoor equipment, tents, sleeping bags, clothes and food. It is recommended to pack lightly. The large luggage can be stored in Burqin Inn.

Food can be supplied in Jiadengyu, Hemu, Kanas, both restaurants and grocery stores that you'll find have prices much higher. It is not a bad idea to prepare some supplies in advance before departure from Urumqi. Also, It's really nice to take a nang, take a bite when you're hungry. You can drink or eat ice and snow when you are thirsty.

It is recommended to take trekking poles, or to pick up two wooden sticks on the way if not.

Things to bring: hiking shoes, jackets, sun protection clothing, magic turbans, raincoats, toiletries, SLR, mobile phones, flashlights, raisins, chocolate, water, beef jerky, etc.
Travel Tips:
Safety first, be sure to prepare before you go, and don't joke about safety.

Although you are familiar with the trekking route, it must be done within our ability

The temperature difference between morning and evening is relatively large, take good measures to keep warm; or bring a winter jacket! Besides, expect to take a pleasant trekking, so don't show up in high-heeled shoes.

Pay attention to wear thick socks to prevent feet grinding

You can bargain the price for eating, drinking, riding and accommodation;

You can write postcards to relatives and friends at Kanas Youth Hostel or post office;

 Kanas will generally seal the mountain pass by October, please consult in advance.