The Overhanging Great Wall is part of the Great Wall of China and located 4 miles (6.5 kilometers) northwest of the Jiayuguan Fortress. This section of the Great Wall was built on the eastern slope of the Black Mountain. The wall wasn't visible for enemies traveling from West to East into China. Therefore, they were surprised after rounding the fortress.
   The flat part of the Great Wall is like flat ground, the steep part is like climbing up a cliff. Standing on the Great Wall, you can see the vast scenery outside the customs.
   The overhanging Great Wall, which is quite similar to the Badaling Great Wall in beijing/" target="_self" title="Beijing">Beijing, is called the "West Badaling" or "Little Badaling". They are also the defensive strongholds of the Great Wall of the Ming Dynasty.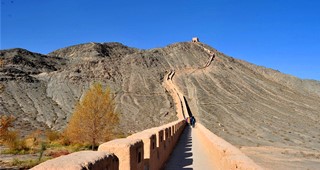 Historically, the section of the Great Wall of Shiguanxia's overhanging wall was the main point of the throat on the ancient Silk Road. The ancient Silk Road cultural corridor in the scenic area runs through the entire scenic area
   As a result of its hidden location, the Overhanging Wall was an important part of the defence network of Jiayuguan Fortress, and both were built during the same dynasty. It's objective was to strengthen the defensive capability for the fort.
   The Overhanging Wall seems much like the rest of the Great Wall. Due to its restoration, it sadly lacks the authentic architecture. If you have already been to the Great Wall or are planning a trip, I would suggest skipping this location and finding something more worthwhile.
Address: North of Black Mountain, Shiguanxia, 14 kilometers (9 miles) north-west of Jiayuguan City center, Gansu Province
TEL: +86 937 - 6396110
Opening Time: 08:30am to 20:00pm  Monday - Sunday  1st May - 31st  Oct
                         08:30am to 18:00pm  Monday - Sunday  1st Nov - 30th April