The Great Wall Museum is located at the east gate of the scenic area, which was opened to the visitor in October 1989 and it is the first one to exhibit the Great Wall culture comprehensively and systematically. (There are many steps from one tower to the other, please consider if can walk and climb about 2hrs) It is the first thematic museum in China to display the Great Wall culture comprehensively and systematically. And the exhibition of the cultural relics fully uses modern technology such as sound, light and electricity.
   The Great Wall Museum is an antique castle-style building with a simple appearance and unique style. It covers an area of 12,312 square meters and a display area of 1,766 square meters. The museum is divided into seven exhibition halls, which contains the basic display of the Great Wall of China, and is accompanied by textual illustrations. It displays more than 7,000 unearthed cultural relics, ancient weapons and equipment, and paintings and calligraphy works of the Great Wall. "Yongle Bronze Cannon" and "Jiayuguan Customs Printing Plate" are valuable materials for studying the history and culture of the Great Wall.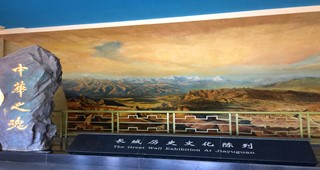 The main exhibition hall holds the basic display of "The Great Wall", which is rich in content and exquisite in design. It displays the Great Wall of China "three thousand years, up and down 100,000 miles" in this museum. A lot of informative materials are written in words, charts, photos, electric Models, physical objects, etc., comprehensively and systematically introduce the Great Wall of China through the ages, provide research places, and serve scientific research.
   It is crucial to visit museum first before exploring other part of Jiayuguan, so that you have a better understanding and background of Jiayuguan Pass. You can also learn the architectural history of this huge defense line from the Silk Road China map and paintings.
--The display content is based on the theme of "Great Great Wall" and is divided into four parts: "Great Wall of Spring and Autumn Period, Warring States Period", "Great Wall of Qin Dynasty and Han Dynasty", "Northern Wei Dynasty, Sui Dynasty, Tang Dynasty, Liaoning, Golden Great Wall" and "Great Wall of Ming Dynasty".
--The museum has the oil painting "Great Wall Map", which combines the freehand and realistic expressions to condense the main landscape of the Great Wall of China into the scroll. The oil painting area is 220.5 square meters, which is the largest in the northwest.
Address: Xinhua South Road, Xinhua Street, Jiayuguan 735100, China
TEL: +86 937-6215162
Opening Time: 08:30-17:30  Monday - Sunday