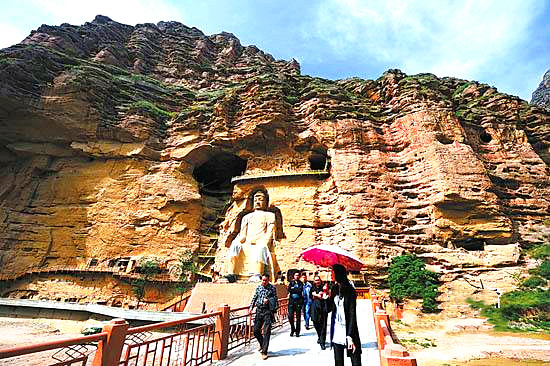 Bingling Temple
Bingling Temple Grottoes, also called Binglingsi Grottoes or Bingling Thousand-Buddha Caves, is located on the Jishi Mountain, about 35 kilometers west of Yongjing County in Lanzhou City. The Bingling Thousand Buddha Caves inside the temple is one of the very noted four caves in China, which is the second to Mogao Caves and was added to the World Heritage List on June 22, 2014.

Chinese name: 炳灵寺石窟
Location: at Jishi Mountain, 35 km southwest to Yongjing County, Lanzhou City, Gansu Province.
Opening time: Mon. - Sun. 08:00 - 18:00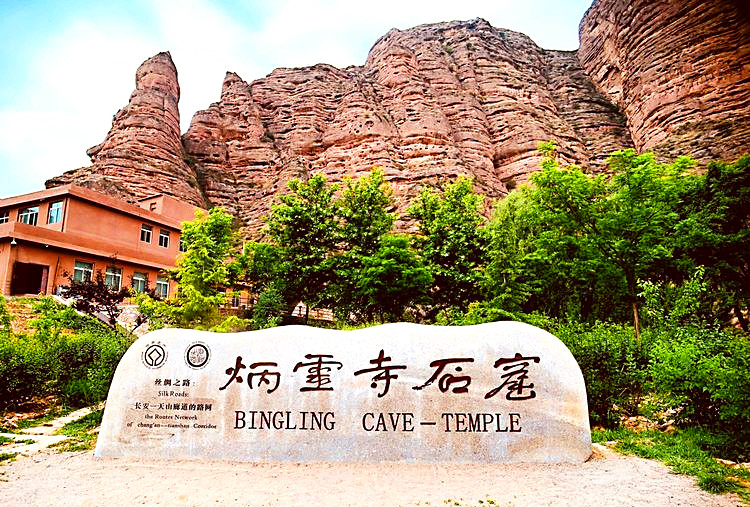 Bingling Temple
Customer Service Center: +86 930-8879057
Ticket: CNY50/pp Speedboat CNP150/pp
Best Time to Visit: between April and September is the best time to visit Bingling Temple, which is an excellent resort in summer that tourists can enjoy the vacation and magnificent natural scenery.
What to Visit in the Bingling Temple
Bingling Temple Grottoes is famous for its multiple stone sculptures and time-honored murals. Besides, the Yellow River scene is also a magnificent landscape as Bingling Temple Grottoes is accessible by boat.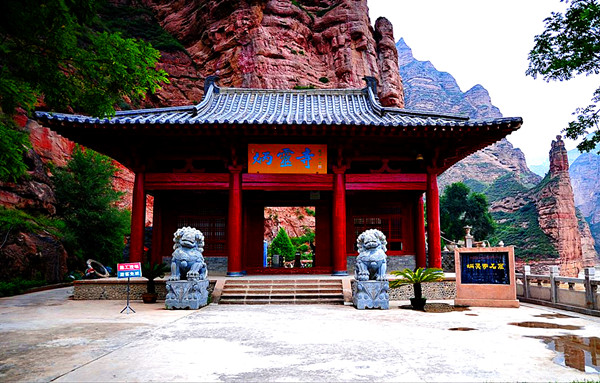 Stone Sculptures in Different Dynasties
Unlike most grottoes feature in clay sculptures in Gansu Province, Bingling Temple Grottoes have a wide range of stone sculptures. They were made in different dynasties, thus present different styles.
Murals of the Sixteen States Period (A.D. 304-439)
Although there are not many murals in Bingling Temple Grottoes, they are precious legacy reflecting the social features, music, dance, and decorative art in the northwest of China during the Sixteen States Period.
Main Caves in Bingling Temple
No.169 Cave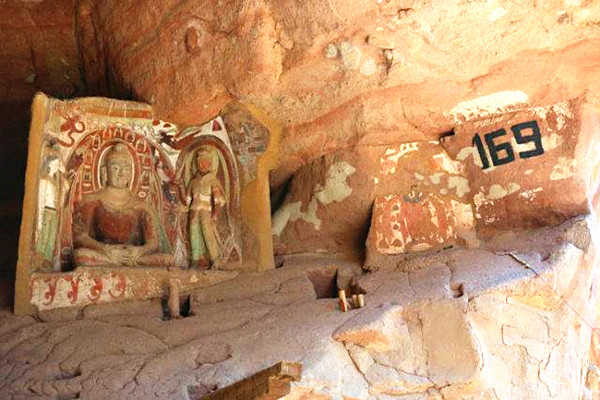 No. 169  Cave
It is the largest and earliest natural cave with the wealthiest contents. Seated above the giant Buddha made in Tang Dynasty (618-907), No.169 is 50 m away from the ground with a height of 15 m, a width of 26.75 m and a depth of 19 m, is the essence of Bingling Temple Caves.

No.126 Cave
It was dug in Northern Wei Dynasty with a height of 3 m and a depth of 2.9 m. It is the cave that most statues with a quantity of 112, and from top to bottom, all walls are covered basso-relievos. On the main wall of the cave are enshrined two sitting Buddhas and two Bodhisattvas, and all statues in this cave are carved with top skills in typical Chinese Buddhist style with elegant appearance.
No.6 Cave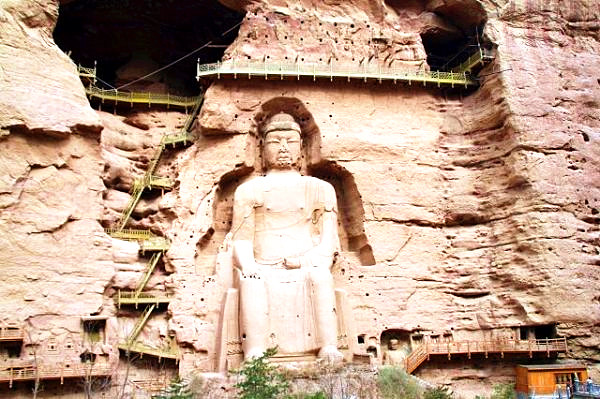 No. 3 Cave

It is the representative of the period with a height of 2 m and a depth of 1.9 m initially dug in the Northern Zhou Dynasty. On both the South wall and the North wall is a standing Bodhisattva, which holds a Buddhist bottle and beads. Treasured trees and thousand-Buddha are also painted on the walls, as well as a story portray of Monkey King, who sacrifices himself for his monkeys during an escape. It is incredibly precious and seldom seen in caves with an intact fresco.

No.3 Cave
Initially built in the Tang Dynasty, No.3 cave was painted in the Ming Dynasty with a height of 3.5 m and a depth of 3.1 m. The significance of this cave is a square pagoda with slope crests dug in the center of the cave. There are oillets on four sides of the pagoda and an arc-shaped path in the front; the body is a timber structure with statues possibly enshrined in the past. Its unique top, equipped with a familiar baculiform shape that ingeniously absorbed from Indian pagodas, is also distinctive from other Chinese caves.
Historical and Artistic Value of the Bingling Temple



Distinct from the Mogao Grottoes of Dunhuang, which is famous for murals, the Bingling Temple gets its fame from skilled stone carvings. Being listed in key heritage sites under state protection is characteristic with countless stone statues and relievo pagodas, which is rarely seen in other temple caves. Besides, it is equally rare that in Bingling Temple Caves, other caves are dug in the upward side of a cave and enshrine another reclining Buddha; what is more, there are numerous Esoteric Buddhism murals are found which reflects the thriving of Tibetan Buddhism during Yuan Dynasty. The Bingling Temple is imbued with valuable historical and artistic values on a par with Mogao Grottoes and Maijishan Grottoes of Tianshui.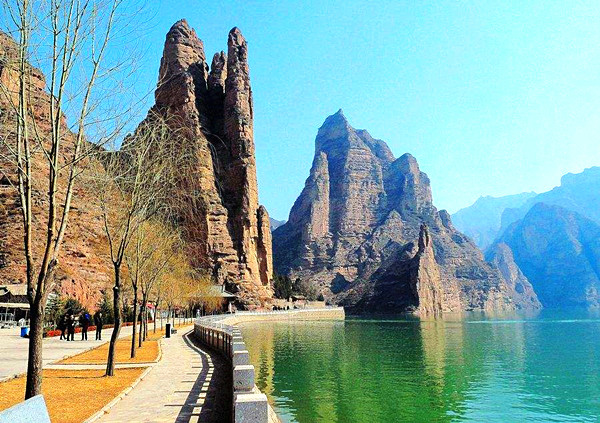 Bingling Temple

How to Get to the Bingling Temple
By Bus: First it takes about two hours to Liujiaxia by bus. It is best to leave as early as you can in the morning to maximize your stay at the site.
By Boat: Then you have to take a cruise ship through the Liujiaxia reservoir. The trip takes about an hour or more, depending on the boat. The boat drivers may not want to wait for tourists for more than an hour unless their waiting time is negotiated and paid for.
Most Popular Tours to Bingling Temple
Bingling Temple and Xiahe Tour                6 Days Classic Gansu Tour               Lanzhou and Zhangye Tour