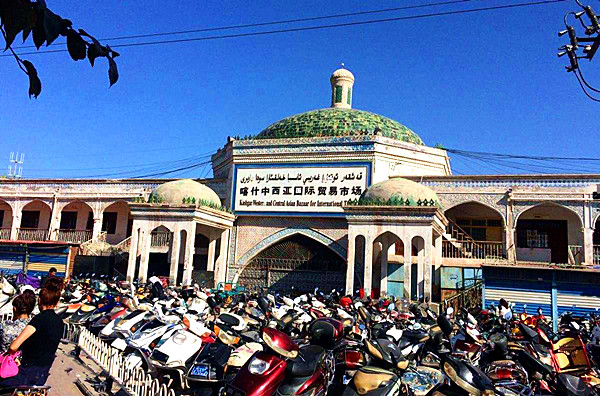 Kashgar Grand Bazaar
Follow our delightful Kashgar Tours to the famous Kashgar Bazaar, an incredibly popular and traditional market that is featured with the ones along the ancient Silk Road, and extend all over China since ancient times. "Bazaar" in Uyghur language means the farming trading market. Kashgar Bazaar, the largest bazaar in Asia more than two thousand years ago, is by far the most significant, busiest, and most famous Market in Xinjiang. Over the years, it it is still flourishing today and has grown larger in scale and attracted a more extensive range of merchants as well as buyers and tourists from Xinjiang or neighboring countries such as Pakistan and Kyrgyzstan.

Chinese name: 星期天大巴扎 (Xinqitian Da Bazha)
Location: at the East Gate of Kashgar City, Xinjiang Uygur Autonomous Region, Northwest China.
Admission Fee: free
Opening time: all day long (Sunday is the best time to visit)
How to get there: Take bus No. 24 and get off at Huangdi Township Station; take a taxi from the city to about 20 yuan

Sunday Livestock Market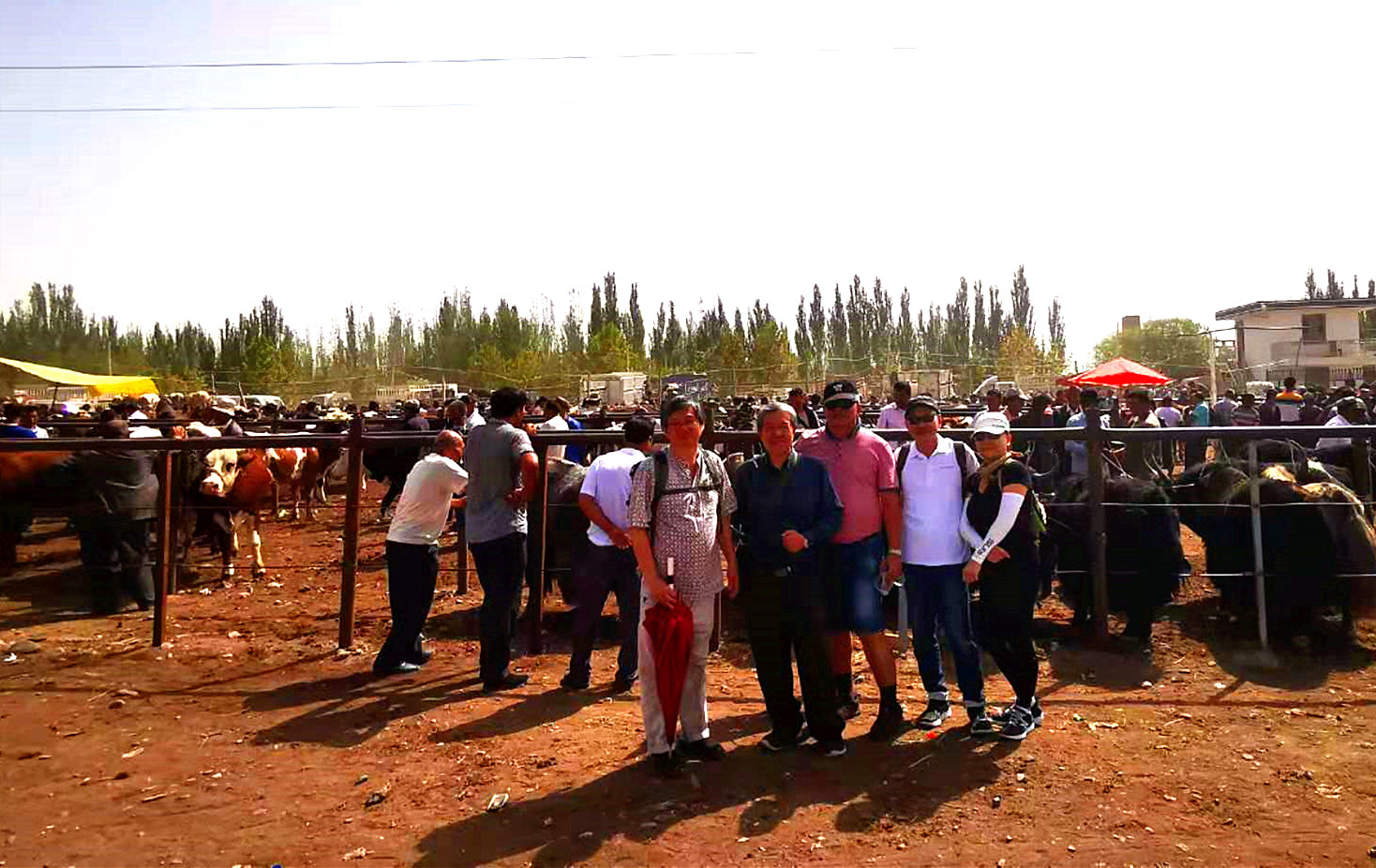 Our clients in the Sunday Livestock Bazaar
Only on Sundays, the Livestock Market takes place on the opposite end of town. It was a part of the Kashgar Grand Bazaar at one time but split off to become a show all its own in a big open area across town. Livestock Market is mainly for cattle, sheep, camels, mules, donkeys, Yaks, Goats, and horses trading. It is a sporadic experience which you cannot have in any other place, and the scene is very spectacular, so to speak, in the noise, the horses back, and the dust flies with cattle and sheep.

Entering Bazaar and looking around, the muddy ground and the crowded livestock in rows made the spectacular scene shocking; you can see the old form of trade prevailing in Central and Western Asia, the "trade-in the sleeve." People who make deals in sleeves are paying in cash, while people who don't talk with their hands are bargaining directly and loudly, not compromising with each other. Because it is an open field, the taste is not as bad as imagination, but the sun and the dust from animals and transport vehicles are everywhere.
At the entrance of Bazaar, there are slaughtered cattle and sheep hanging in the simple shed beside the road. However, here is a place to provide various delicious noodles, baked buns, steamed bread, roasted mutton, mutton soup. If you are tired of walking in the Bazaar, you can taste the local cheap and unique local food.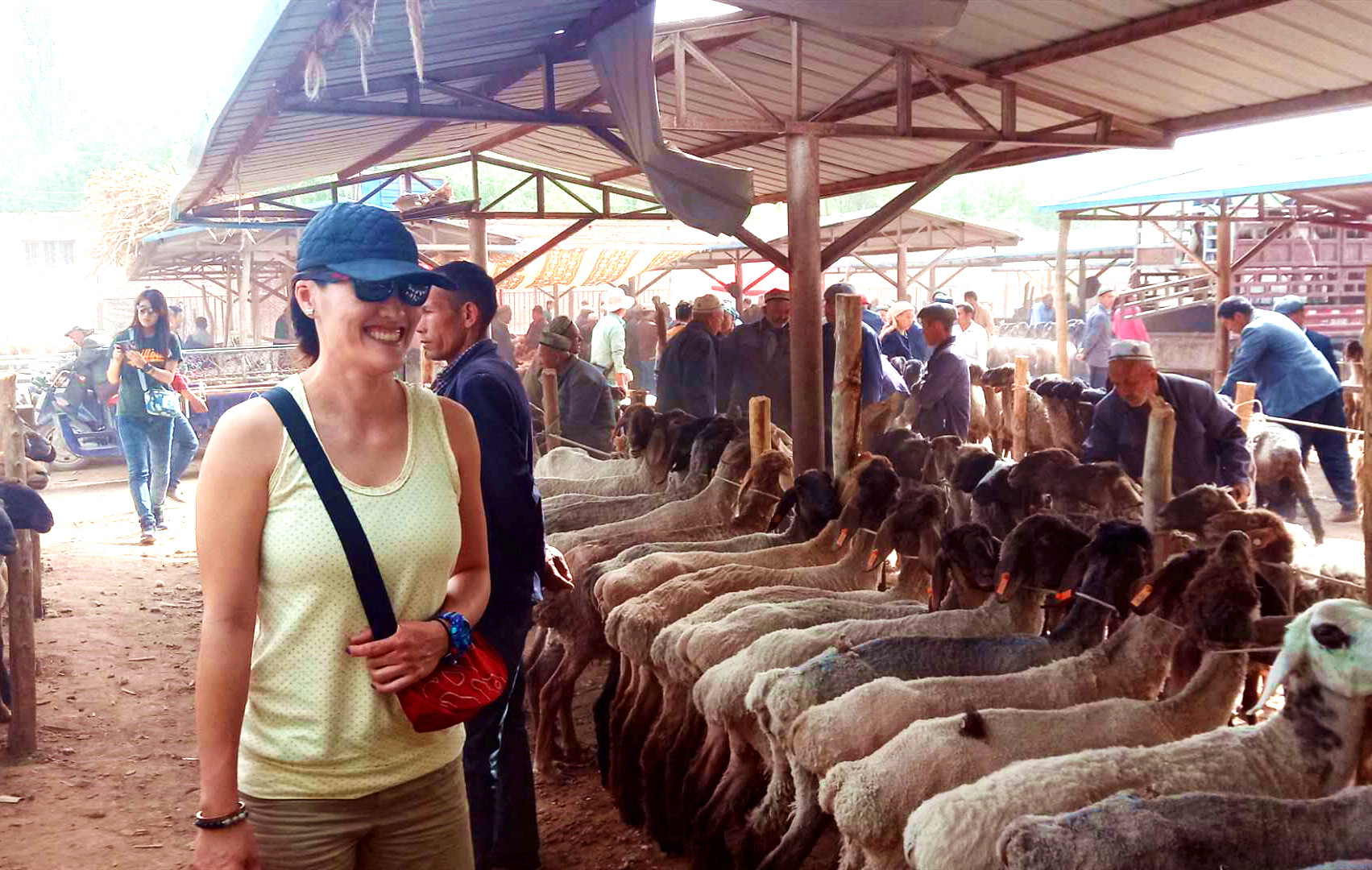 Our clients in the  Sunday Livestock Bazaar
Standing on the road outside the Market, you can see a busy scene of locals flourishing into the Market with their cattle and sheep. There are gradually trucks and tricycles on the road, crowded with cattle, sheep, donkeys, and camels.
In addition to the live animal trade, it sells all the production supplies related to animal husbandry, ranging from the reins to the feed kinds of stuff; the Market has beef and mutton for sale and the most primitive catering stalls.
History of Sunday Bazaar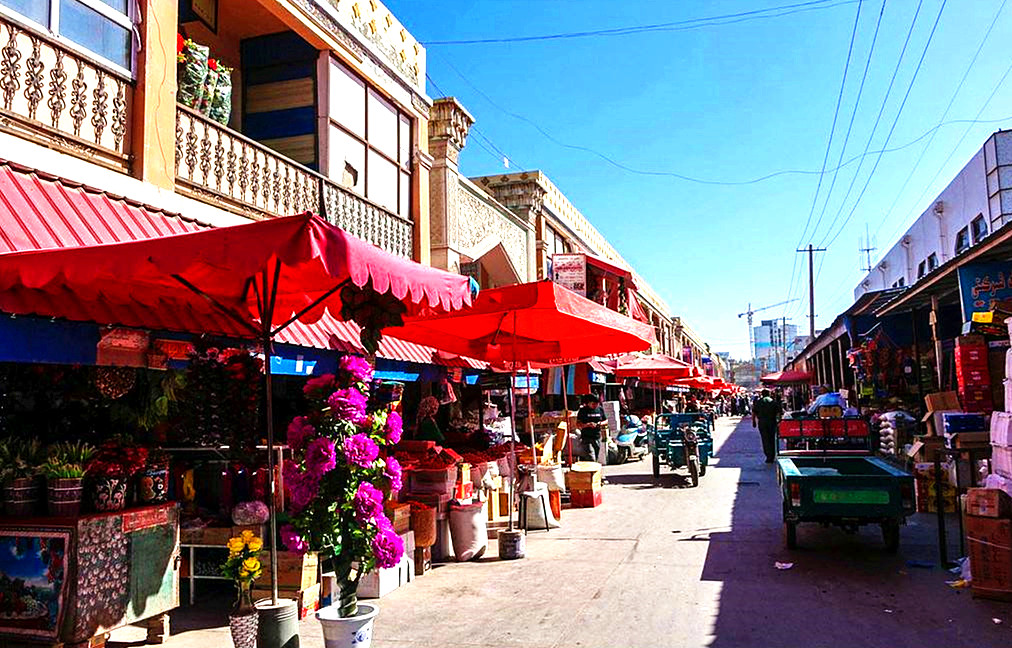 Kashgar Grand Bazaar
Kashgar is a historical and cultural city on the ancient Silk Road and a commodity distribution center. The Silk Road trips from Xi'an will converge here, whether they take Tianshan South or North Road. Besides, located in the center of the Eurasian continent, Kashgar has a unique geographical advantage of "five ports (shores) connecting eight countries, all the way to Europe and Asia." Pakistan handicrafts, Turkish scarves, Kyrgyz telescopes, and Saudi dried fruits are available. In the early 1990s, there was also a Kyrgyz barter market in Grand Bazaar.

As Zhang Qian left the Western Region in 128 BC, he came to the Shule (now Kashgar) Kingdom, one of the 36 countries of the Western Regions. As the towns in the Central Plains, there used to be very decent streets and market shops in Shule City. At that time, outside the city, there was a lot of traffic, a caravan of horses, merchants sat everywhere, and many groceries. What's more interesting is that people on the Market are colorful and speak various languages, which had already been a prosperous trading market
What's in the Kashgar Grand Bazaar?
Walking in the Bazaar is the best way to know Kashgar, you can find any items you want here as long as you have enough time and energy. It is only you can't think of it, nothing you can't buy it.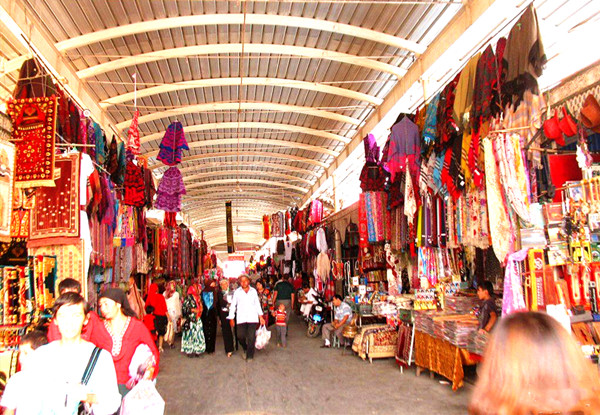 Kashgar Grand Bazaar
Tourists claim that those who have been to the Bazaar can say he has been to Kashgar. Kashgar Grand Bazaar, with 21 professional markets, over 5,000 stalls, and a food street, boasted as the center of ethnic arts. Every week an over 50,000 people are pouring into Kashgar Bazaar from all the places on bicycles, tractors, trucks, and even donkey-drawn carts. Almost anything can be traded from livestock like sheep, goats, horses, and camels, to clothes, fruit, and vegetables. It is a fantastic place to be in if you are looking for some bargains, as you can bargain for up to 60-70% off the labeled price! The Bazaar opens early in the morning and lasts for a long day till early evening with fast-foods and drinks readily available.
Just like a labyrinth after entering the Bazaar, there are tens of thousands of commodities, daily traffic of more than 100,000 people, various countries, nationalities, and skin tones. This variety of Central and Western commodities include delicate embroidered Uyghur hats, Uyghurstyle Yengisar Knives, and traditional designed earthenware. The delicious ethnic snacks feast the tourist's stomach and eyes, and Uighur stall owners will communicate with you in simple Chinese. Their faces are filled with a kind smile. Usually, Xinjiang people who are coming in to trade in the markets are ethnic, or Muslim Chinese and regular Chinese typically don't go in to buy. Here, there is everything you can eat, wear, and use; foreign goods, domestic goods, and local goods are all available.
What to buy in Kashgar Grand Bazaar?
Cloth/Silk and Clothing: There's quite a bit of cloth, silk, and clothing sold at the Market. Atlas, the most famous Uyghur pattern in the region, is on full display and usually isn't that expensive in Kashgar.

Household Items: From plain pots and pans to ornate serving dishes, there's plenty of household items on sale.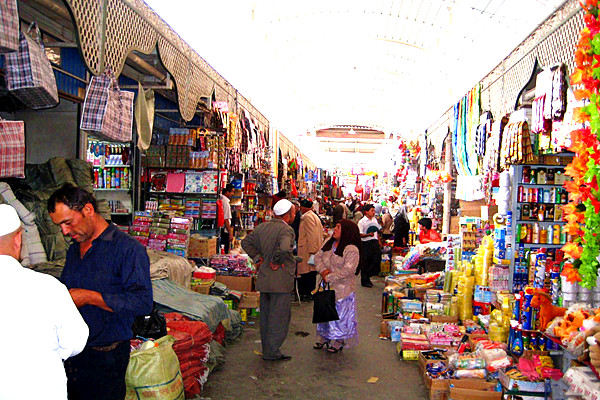 Kashgar Grand Bazaar
Traditional Uyghur Souvenirs: It's possible to purchase items like miniature dutars (local musical instruments) and an Uyghur knife. Another of my favorite souvenirs is the Uyghur pottery.
Local Nuts & Dried Fruits: This is an often overlooked but excellent souvenir, in my opinion. You'll find entire stores dedicated to selling a variety of nuts and dried fruits across the Kashgar region.
Travel Tips



Pay attention to safety, because of the crowded here, a lot of people buy and sell here; please pay attention to security;
Everybody needs to pay attention to take care of valuables, in case of loss;
Remember the parking place and location; please return the parking place on time.