Shipton Arch, located in Kezil Su Kyrgyz Autonomous Prefecture, at the junction of the Kunlun Mountain and the Snow Mountain,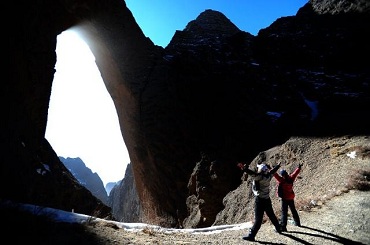 around 75 kilometers (47 miles) away from the Atushi city. About 65kms from Kashgar city, and takes a couple hours by car and a couple hours by foot to reach. The surface of the stone wall looks like a strange mural. It is considered the tallest Natural Arch on the planet.
The arch is named after Eric Shipton, who served as the British consul in Kashgar in the 1940s. He visited the arch in 1947 and wrote about it in his book, Mountains of Tartary. Shipton Arch is often considered to be the highest natural stone arch in the world, though its exact height depends on how it's measured. For many years, Shipton Arch was forgotten by the outside world, though it was brought back to the world's attention in May 2000 with a National Geographic expedition. The height of Shipton Arch from the south side is 460 m (1,500 feet – roughly the height of the Empire State Building), and the top spans a total of 55 m (180 ft).
The Stone arch stands on the Pamirs Plateau. It is shaped like"∩". It is around 100 meters (328 ft) wide and 500 meters (1,640 ft) high.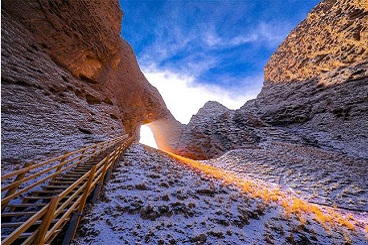 The huge stone arch stands on the plateau. Travelers can find it at a distance. There are many stone caves at the right side of the stone arch. People can hear the echoes in front of the right side. The left sides of the stone arch looks like a wired paintings. People can hear all the echoes in the middle of the stone arch.
The attraction is recommended by ADVENTURE magazine as one of the 25 latest exploration routes in the world. Hiking here is suitable for any ages as new ladders were made for climbing to the base of the arch. It is short but a great Hiking exploration and seeing the magnificent work of nature, which is different from other noisy and crowded scenic spots.
The rock weathering here is severe and the rock is brittle, so it is quite difficult to clime the stone arch. Accidents occur a lot. It is a good place to enjoy the prompt drop. There are lots of rock jocks visiting the Stone Arch every year.
Most Popular Route to Kashgar & Xinjiang

click to know more👇