With a total length of 75 kilometers, there are more than 600 S-turns, many of which are 180 degrees, or even 270 degrees, screaming at the Nu River 72 turns, and the Qinglong 24 turns on the Yunnan-Burma Highway. The Panlong Ancient Road is like a huge dragon, hovering on the Pamir Plateau about 4,100 meters. The dark asphalt roads are perfectly combined with the colored mountains.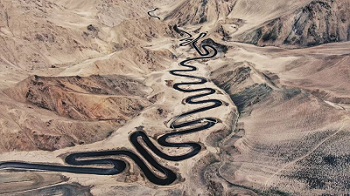 Chinese Name: 盘龙古道
Location: Located on the Pamirs, in the territory of Wacha Township, Taxkorgan County, Xinjiang
Ticket: Free
Opening Time: Open all year round; please consult the scenic spot for specific business status
What to Visit in the Panlong Ancient Road
It is located on the Pamirs, in the territory of Wacha Township in Taxkorgan County, Kashgar, Xinjiang. Most of its corners are more than 180 degrees, some even 270 degrees, like a black dragon entrenched in the mountains, no matter the visual impact or driving experience, it will make people's adrenaline soar.
Features of the Panlong Ancient Road
It is a famous Internet celebrity highway in Kashgar. The highway is built on a winding mountain, and its characteristic winding lane with twists and turns has a tendency of "nine bends and eighteen bends". Looking down from the top of the mountain, it is magnificent.
Travelling guideline
Panlong Ancient Road, 600 bends not to be missed on the Pamir Plateau, Panlong Ancient Road, you know by its name, this is a road that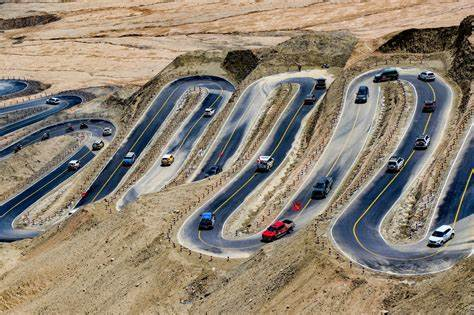 existed very early, used to be a section of the ancient Silk Road, connecting Ta County and Wa Cha, also called the Wacha Highway! Let you experience the charm of the ancient road. If you enter the Panlong Road from Ta County, you need to climb more than 4,000 meters of mountain beams to reach Panlong. The slope of the Panlong Road is steep and curved, which is extremely unsuitable for novice drivers. You must check the brakes before going. , And tires, and it is best to bring a drone, here is only suitable for drone photography! Do not exercise vigorously if you are lack of oxygen at high altitude! Highlights: Panshan Road with more than 600 bends
Traffic strategy: 
Self-driving or renting a car. Play time: 2-4 hours. Pre-departure preparation: check the brake tires
How to get to
From the Tourist Service Center of Taxian County, take National Highway 314 towards Hongqi Lafu for about 23 kilometers. After seeing the road signs (as shown in the picture below), continue on for about 100 meters, turn left into the asphalt road towards Wacha Township, and the official start Enter Panlong Ancient Road.
Precautions
Although the scenery is beautiful, you must be careful when driving on bends. Safety comes first.
More Classic Route to Xinjiang and Kashgar
click to know more details👇