The Introduction of Bezeklik Thousand Buddha Caves
As one of a must-visit grottoes in Turpan. The Bezeklik Grottoes Thousand Buddha Caves, is a comlpex of Buddist cave grottoes dating from 5th to 14th century between the cities of Turpan and Shanshan at the north-east of the Taklamakan Desert. They are high on the cliffs of the west Mutou Valley under the Flaming Mountains, and most of the surviving caves date from the West Uyghur kingdom around the 10th to 13th centuries.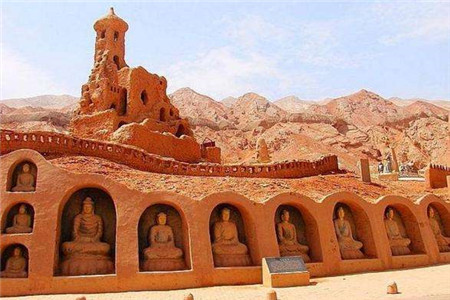 Lying at Mutou Valley of mid Flaming Mountains, 50 kilometers northeast to Turpan City, Bezeklik Thousand Buddha Caves were opened on the Cliffs or built with clay bricks. There are 83 caves with different functions,some were used as houses and medicating rooms of monks, the other were used as lecture halls, still the others were for remembering the dead respected monks and the rest were for monks to take rest. Most of the caves were badly damaged,only in forty caves there are has frescoes of 1200 square meters. The caves were opened in the time from the sixth century to the 14th century.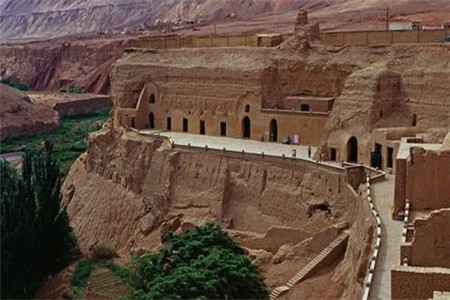 The History of Bezeklik Thousand Buddha Caves
In the Tang Dynasty, the caves were a temple named after 'Ningrongku'. Most of the present caves were rebuilt or expanded in the time of Gaochang Uygur Kingdom in the mid 9th century. So the frescoes are regarded as 'the largest number of best preserved and most representative ones of the Uygur Buddhist arts'. After 12th century, the caves were declining as the Uygur Kingdom was beginningto decline.In the recent years, archaeologists found the early deserted chambers and broken scripts of Uygur language, Xixia language,Chinese language, Sanskrit, Poromi and Sodgda languages and other relics.All this suggest that in the time of Uygur Gaochang Kingdom, there were temples and other big buildings except the grottoes. So the offer valuable materials for studting the history, culture, arts, social life and language of the Western Regions. In 1982, the grottoes were authorized as a major cultural relic site under state protection.