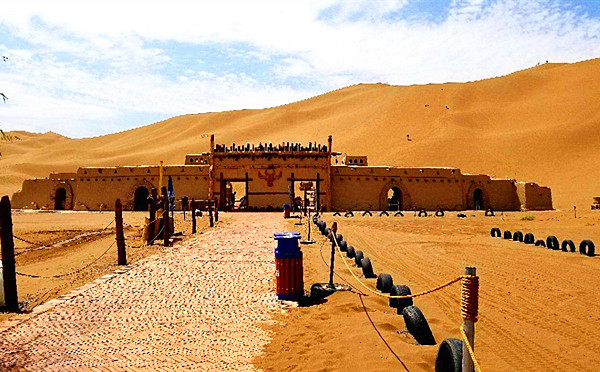 Kumtag Desert
Kumtag Desert covering 1880 square kilometers desert area, is located in the east border of Turpan Basin, joins the south side of Shanshan County, Xinjiang. Kumtag means dunes in Uighur language, and it is listed in the eight vast deserts of China.

Kumtag is the only desert that joined to town area with a well-known name of "Desert in the city." In decades of centries, the desert has never moved northward. So Shanshan County has been protected from being buried by sands. It is a natural museum in which all kinds of world's typical desert landscapes displayed together. And the last place to explain the lost culture of ancient empire Loulan.
Chinese Name: 库木塔格沙漠公园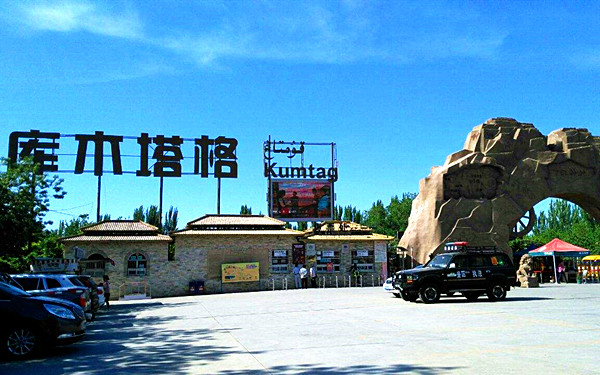 Entrance of Kumtag Desert
Location: Kumtag Desert Scenic Area, Shanshan County, Turpan, Xinjiang, China.
Entrance Fee: CNY 60/PP
Opening Time (Mon. - Sun): 08:00-21:00 21st Apr. - 20th Oct.
                                             10:00-18:30 21st Oct. - 20th Apr.
Custom Service Center: +86 995-8389389/8388799
Best Time to Visit: May and Oct is the best time to go to Kumtag Desert. April would be nice too but there is a risk of sandstorm or dust storm. It would be easier to up the hills before 12:00 or after 20:00, if you are going from June to Sept.
What to do in Kumtag Desert
Activities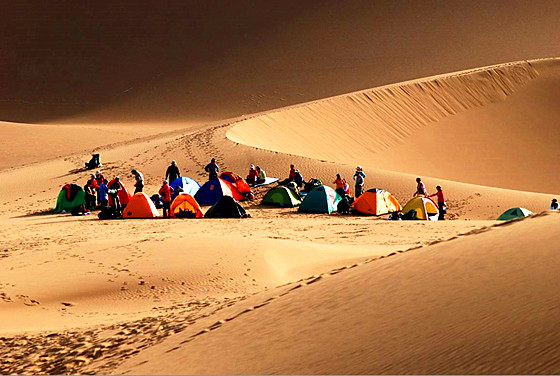 Camping in the Kumtag Desert
Kumtag Desert is an exciting attraction for those who have never been to deserts before! Sand skating or skimboarding, camel riding, oasis cruise, and desert sand motoring are available in the park as separate services on separate costs. You can bring your board to skim from the top of the sandhills.
Camping
You could also camp around the desert if it is not windy, and you could only camp downhill if it is windy. You can rent a tent in Kumtag or bring your tent, and there might be a bonfire on Saturday nights.
How to get to Kumtag Desert
Railway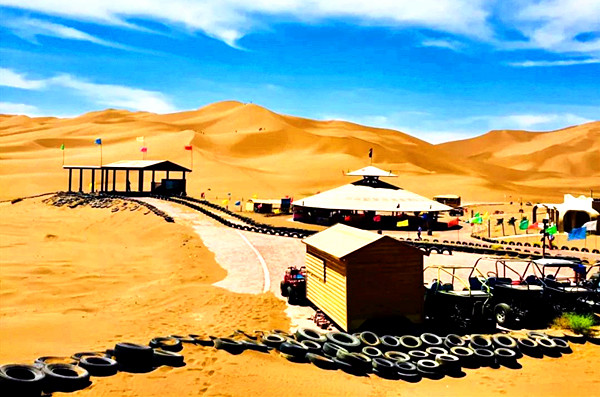 Kumtag Desert
Shanshan Railway Station: located 35km away from the city center and the cheaper regular rail is slower than other transport, you have to hire a car to the city center once you arrive at Shanshan Railway Station. Shuttle buses are recommended if you travel from Urumqi or Turpan.
High Speed Rail: it takes less than 1 hour to travel from Urumqi to Shanshan, but it's hard to get rail tickets. Shuttle buses are recommended if the journey is unpredictable.
Bus
Urumqi:
Take shuttle bus to Shanshan from Urumqi Nanjiao Passenger Transport Terminal on Xinhua South Road. Shuttle interval: 09:30-13:30、14:50-19:20, 3-4 hours journey.
Turpan:
Take shuttle bus to Shanshan from Turpan Passenger Transport Terminal, which is about 2 hours.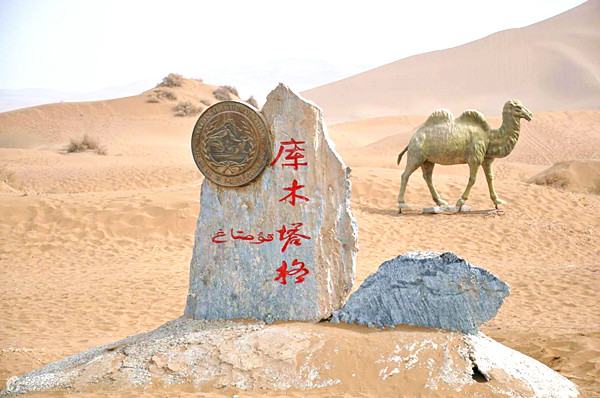 Kumtag Desert
At Shanshan:
Ride Route 1 from Shanshan Passenger Transport Terminal to the final bus stop at Kumtag Desert.
Travel Tips
Bring sunglasses, sunblock and hat to protect yourself from the sun. Dress windproof wear.
Don't forget to prepare drinking water too. Do prepare some food and snacks since there aren't much to eat inside.