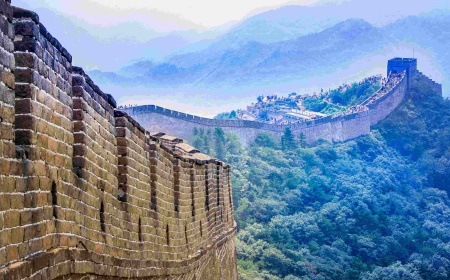 The Great Walll
There's a famous quotation In Chinese language "He who has not climbed the Great Wall is not a true man." The Great Wall is the world's most iconic structural marvels, it boasts over 2,000 years of history and stretches over 21,000 kilometres. While it is not visible from the moon as has been claimed, it's still a remarkable piece of engineering and is the most famous symbol of China.
History of the Great Wall
The Great Wall has a history of over 2,300 years. It was mainly built in the northern part of China by different dynasties as a military project to defend against invasions.
The first part of the Great Wall was built during the Warring States Period (770-221 BC). The first Emperor of the Qin Dynasty (221-207 BC) connected the walls to secure the country's northern border. A million workers undertook the monumental task of completing the mega-project in nine years. Most of today's Great Wall was built or restored in a 100-year project during the Ming Dynasty (1368-1644) to prevent invasion from further north. The Ming Great Wall crosses nine of today's provinces and municipalities.
The end of the Qing Dynasty (1644–1911) also signalled the end of construction and maintenance of the Great Wall, until the Badaling section was restored by the government of the Peoples' Republic of China, and opened to the public as a tourist attraction in 1957.
How the Great Wall was built?
The Great Wall is not just about long walls. It was an integrated military defence system with watchtowers for surveillance, fortresses for command posts and logistics, and beacon towers for communication.
The majestic Great Wall was built with wisdom, dedication, blood, sweat, and tears. Families were separated, and many workers died and were interred as part of the Great Wall itself.
Millions of soldiers, peasants, prisoners and pack animals transported millions of tons of bricks, stones, and soil using ropes, wood, and basket system on remote terrains ranging from parched deserts to steep mountain ridges.
Mutianyu Great Wall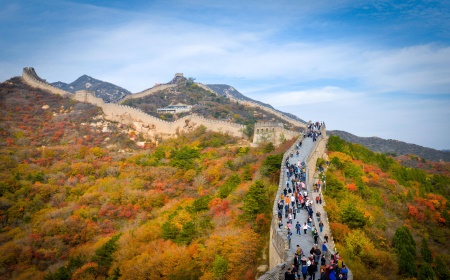 Mutianyu Great Walll
As one of the best-preserved sections, Mutianyu features densely distributed watchtowers. Some are rarely seen such as the Zhengguan Terrace (No.6 Watchtower), which is comprised of three hollow watchtowers. Renovation work has made it much easier and safer to climb. Moreover, it's equipped with a cable car and a luge, making it accessible to children and seniors. 
Badaling Great Wall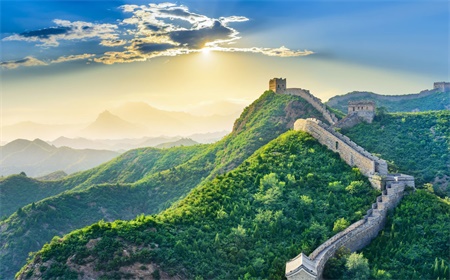 Badaling Great Walll
Do you want to tick the Great Wall off your bucket list without a big hassle? Then Badaling is your go-to section. Let's be honest, if you don't drive a car, and hiring a driver is not an option, it can be a headache to reach the Great Wall from Beijing by a combination of bus and taxis. Not with Badaling, which lies closest to Beijing, is well restored, and has got easy access by train! On the downside, it's very touristy. Remember those videos where you can't see the wall as it is swamped by people? That's Badaling during public holidays. So if you want a nice shot to post on your social media and you are not particularly fond of large crowds, try one of the other sections during the Golden Week.
When is the best time to visit?
The best time to visit the Great Wall is from March to May and September to November. Prepare well for your hike and check out your weather app before you set out.
Tips:
International and domestic tourists are welcome to get informations and help to preserve the Great Wall while paying a visit to this precious historical treasure.

As the most popular and best-preserved section, Mutianyu section is located about 73 kilometres northwest of downtown Beijing and is convenient to reach through public transport.
Opening Hours & The Admission Fee
Opening Hours

Peak season: 7.30 a.m.- 6.30 p.m. (March to April).

Off-season : 8.00 a.m.- 5.00 p.m. (November to March)

The Admission Fee


CNY 40


Note: If you buy an entrance ticket attached with a postcard of Mutianyu, you need to pay CNY 5 more.
How to get to the Great Wall
Badaling Great Wall: Take an S2 train from Beijing Huangtudian Railway Station, the earliest departing at 7.46 a.m. and the last returning at 9.12 p.m. (Ticket fare: 6 yuan one-way).

Mutianyu Great Wall: Take express bus 916 to Huairou North Street Station first and the destination is a 20-minute drive from the station.