As one of the gorgeous National Geo-park along the silk road, where you can visit the Danxia Peak Forest  and Yellow River Reservoir.

Introduction of Kanbula National Geo-park:
Kanbula National Geo-park is located in Huangnan, Qinghai Province, the scenic spot is centered on the Yellow River Reservoir which is formed by the Lijiaxia Dam, and the scenery is surrounded by red and steep Danxia topographic peak forest, which is very spectacular.

What to visit in Kanbula National Geo-park:
The main landscape in the scenic area is the reservoir and Danxia landform. Because the scenery is located in the upper reaches of the Yellow River and the water is still green and clear, plus the surrounding red cliffs, which is very fantastic. Among them, tourists can also enjoy some representative views like " Fairies Meeting ", " The stiff Hill lock " and " Nazong Valley " and that will definitely feast your eyes.

Fairies Meeting:
"Fairies Meeting" is made up of tens of straight-rising cone massifs, on which rare flowers and plants grow luxuriantly. Seen from a commanding position, it looks like the fairyland in the abode of immortals, where fairies are dancing gracefully.

Hillock:
"Hillock" is composed of dozens of tower peaks wit crags. Just viewed from the beautiful spot, the peaks seems to be dancing with boundless forests, weathers multifarious, and admiration of the charming land arising spontaneously.

Nanzong Valley: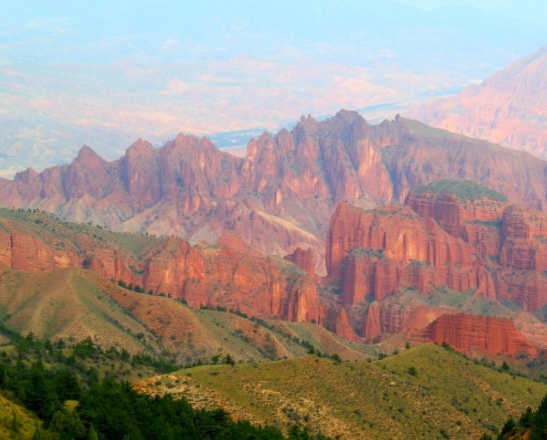 "Nanzong Valley", is should be the most beautiful place in the park. when you entering the area you will see a well-known scissors-like peak, just like a pair of scissors held in a woman's hand, and the other two famous peaks are respectively named Male Peak and Female Peak. All the way through the gully, the path winds along mountain ridges. On half way you can see a nun-cultivating grotto high up on the cliff, with a depth of 2 metres supposed to be a site for saint like nuns to meditate. A length of wooden ladder still suspends at the opening, serving as an access.

When is the best time to travel to Kanbula National Geo-park:
Every May to September are the best time to travel to Huangnan, Qinghai Province. However, in which I have to say that Kanbula is a well preserved natural scenic area with an excellent ecological environment.
In summer, visitors can enjoy the shade and cool breezes and the magnificent Danxia Landform.
In autumn, they can view a sea of red leaves and immerse themselves in the most spectacular natural landscape, so during period, they can not only appreciate the fresh and tranquil natural environment, but also get the cultural inspiration drawn from the sites of the cultural interest.
Furthermore, the scenic spots will be closed from mid-October to late April of next year, so travelers are suggested to check the official website before visiting.

Travel Strategies of Kanbula National Geo-park: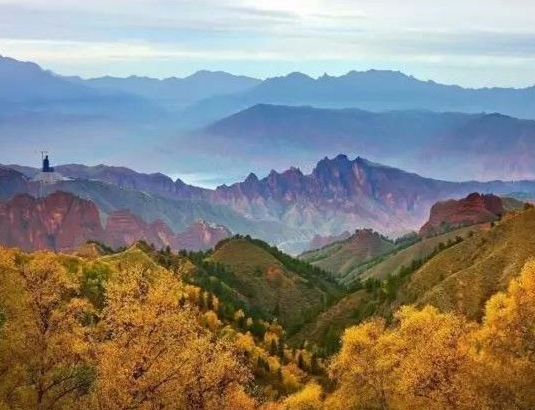 Kambla Forest Park covers a large area with a depth of tens of kilometers, the main entrance of the scenic spot is located on the East side. After entering, tourists can choose to travel by section bus or cruise boat. In addition, if you come from the direction of Guide, you can also enter from the back door of the scenic spot located on the West side. Moreover, the private cars can drive into the scenic spot, and the parking fee is 30 RMB.
Land and Water tour is one of the major travel ways now, visitors can enter the scenic area from the east gate and take the interval bus to pass through several scenic spots such as Lingshan Holy Water, Guishan Pinghu, Nanzongfeng and Xiaoyaochi. Finally, you will arrive at Nanzonggou Wharf on the West side. Here, you can take a boat to visit several scenic spots and return to the north shore wharf near the gate of the scenic area. The one-way fare of cruise ships and interval buses is 100 RMB and the transportation fees is 200 RMB.

The Admission Fees: 50 RMB/Person.

Opening Time:
Peak season: 15th June to 15th September ( 7.00 AM to 7.00 PM )
Off season: 16th September to 15th June ( 8.00 AM to 6.00 PM )